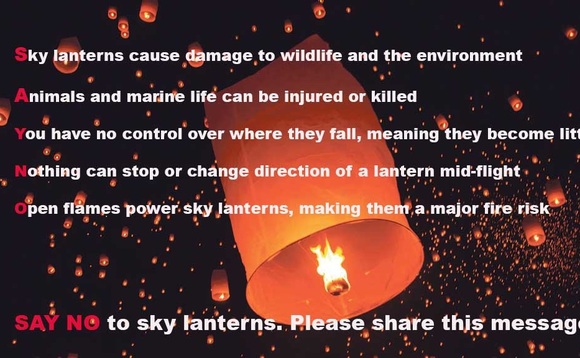 Farmers and fire services across the UK have urged the public not to release sky lanterns to show their appreciation for the NHS during the coronavirus pandemic.
The campaign, run by lantern company Night Sky Lanterns, urges people to light and set off sky lanterns from their homes each Sunday evening.
Lanterns pose a serious fire risk to farm buildings, which may house hay and straw, or other flammable products.
They also pose a threat to animal health if they land on farms as the frame material can get mixed up into feed, such as silage or grain, and be accidently digested by livestock the effects of which can be fatal.
Lincolnshire farmer Chris Hewis urged the public not to support the use of these 'uncontrollable incendiary devices'.
"There are much safer and more effective ways to unite the country," he said.
He highlighted the weekly 'clap for carers' which sees people clapping the NHS and other key workers from their doorsteps each Thursday evening.
'Misguided'
The National Fire Chiefs Council (NFCC) described the campaign as 'misguided' and said the products should not be used 'under any circumstances'.
NFCC chairman Roy Wilsher said: "All emergency services are currently under unprecedented pressure due to Covid-19, and I am concerned this type of activity could not only put additional pressure on the fire service, but further strain on the NHS.
"If a sky lantern causes a fire, it could see firefighters spending valuable time dealing with what could be a complex and large-scale incident; time which could be spent supporting vulnerable people in the community, as part of the fire services response to Covid-19."
NFU Scotland president Andrew McCornick has written to the lantern manufacturer, Scottish Fire and Rescue Service, Police Scotland, Scottish Ambulance Service, politicians and local authorities seeking their support on bringing the event to a halt.
He said: "We suggest that they use social media and public statements to urge the general public not to take part in this campaign, but to continue to use safe ways to thank our front-line workers, such clapping, music and colourful rainbows in their windows.
'Additional burden'
"At this critical time, support for those in the frontline is best achieved by following Government advice, staying home, keeping safe, not undertaking any non-essential work or travel and by not engaging in any unnecessary activity that might potentially place any additional burden on our emergency services."
Farmers Guardian launched its Say No to Sky Lanterns campaign in 2013 and since then many local authorities and events including Glastonbury have banned the use of sky lanterns.
Following lobbying from FG, supermarket giant Tesco pledged to stop selling the products due to the fire and animal welfare risks they pose.