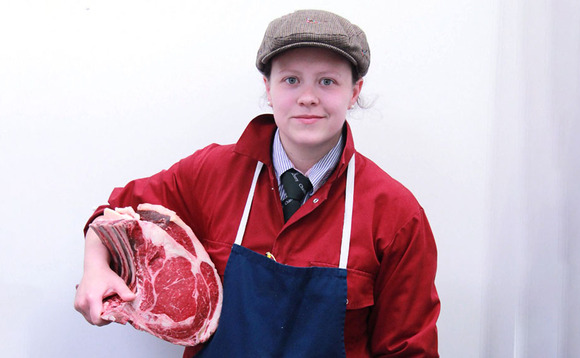 Charlotte Mitchell, 32, runs a butchers shop, Charlottes Butchery, in Gosforth, Newcastle-upon-Tyne. Here she tells Emily Ashworth about her journey into the profession, and how it is a sector which needs more passionate people to get involved.
What is your background?
My mum, Gill, is an agricultural consultant and we have sheep farmers in the family too.
How did you become interested in butchery?
When I was a student, I needed a part time job, so my mum pulled some strings and got me a job in a butchers in York, and I became fascinated by the trade and thoroughly loved it.
What do you like about it?
All of it.
When you are working behind the counter of a shop, you are on the front line having to answer any question the customer might throw at you. I love talking to our customers about what their dinner plans are and helping them decide which cut of meat is right for them. I love the rhythm of the working week and how people change what they fancy eating.
Do you think there is a lack of female butchers in the industry? Is it seen as a male industry?
I think what the industry lacks is passion - we need people who are excited about where their food comes from whether they are male or female. It is still a male dominated industry, but women are gradually entering the trade.
How can we encourage more women into the industry?
Better shoes
How did you train to become a butcher?
At the time I had a degree so I did not qualify for an apprenticeship, so I managed to get various jobs in different butchers shops and then I was approached on Twitter to move to London and work for OSheas, and then on to Lidgates in Holland Park. I was able to learn a lot and ask lots of questions - probably really annoying questions - and work with people from all over the world.
When did you set up your business and why?
In January 2013, a shop was up for sale in Newcastle. I was still working in London at the time and was looking to move back to the North East. I saw the shop advertised online and came to have a look and I loved the spot and the row of shops on the street. So, I got a start-up loan and took it from there.
Where do you source your meat from and why?
We use a local abattoir who use local farms. We work closely so we can make sure we get the quality we need with as little waste as possible. Using as much of the carcass as possible is really important to us, from making our own beef dripping, haggis, black pudding, to stock pots.
Do you feel proud to be in your profession?
Of course. My brother and I have been running the shop for over 7 years and it just gets better all the time.
Are people becoming more aware of the benefits of shopping locally, meat provenance and including of meat in our diet?
I think so. Obviously, there is so much in the media about veganism at the moment, and it can be disheartening but the truth of the matter is if we are to eat food with low food miles we have to continue eating meat.