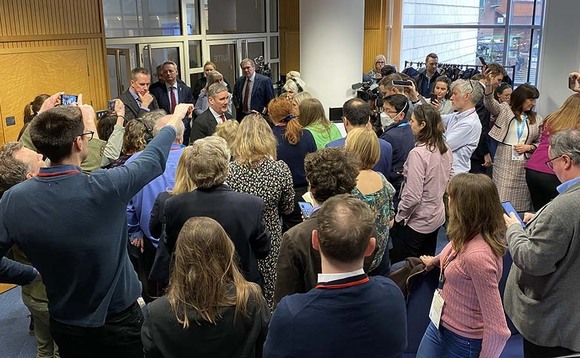 Labour Party leader Sir Keir Starmer today set out his stall to win the rural vote saying food security is national security.
Addressing delegates at the NFU Conference in Birmingham, the Opposition leader said should his party win the next General Election it would seek to form a new relationship with farmers built on respect, implementing policies that have been designed in partnership with the industry.
He announced that a Labour Government would commit to procuring 50 per cent of public sector food from UK farms, saying all produce would be produced locally and sustainably.
That is 1.2 billion of public money spent on quality food that is genuinely better for peoples health, he said. And 50 per cent is just the minimum. We will do everything to go beyond it, he explained.
However, he was less clear on how his party would address some of the key issues currently affecting the sector. On the Seasonal Worker Scheme, Sir Keir would not be drawn on how Labour would manage staff shortages, or numbers of visas that would be issued to foreign workers, stating again that Labour would work with farmers and take a pragmatic approach. He also revealed that he would support Right to Roam - adding that he would work with farmers to ensure any new rules respected farm businesses.
In terms of energy, the Labour leader stated that unlike the Conservative Party, his Government would include farming as part of the Energy Relief Scheme. However, he added that the party was committed to boosting renewables, revealing that he would like to see more solar panels across the countryside.
Although he failed to reveal what Labour would spend on the sector he acknowledged that stability and certainty were key for farming. He said the current ELM scheme was going in the right direction.
You are going through a huge transition, in the main a good transition, he told delegates. A system that rewards public goods is right. But we cannot lose sight of food production. We cannot lose sight of farming as a business... Rolling these schemes out well is the difference between viable farming businesses and abandoned farms.
He also used the platform to hit out at the Governments trade deals, accusing the Tories of giving up on farmers and allowing the industry to take a 300m hit from the recently signed FTAs. He insisted that Labour would remove barriers to export while protecting British high standards and would look again at the UKs relationship with its former EU partners to ease exports.
Alongside this he addressed the long-held view that Labour is not traditionally seen as the party of the countryside, saying: We do care deeply about the country. We come across as the party of urban Britain only mentioning the countryside to say what we cannot do, not what we can do. This is a different Labour Party...
His speech was met with a warm reception in the hall, although CLA president Mark Tufnell branded it superficially attractive.
Mr Tufnell said: Sir Keirs desire to boost exports is welcome, and many farmers will be delighted to hear his pledge to uphold standards in future trade deals. But without making a commitment to the long term funding of Environmental Land Management Schemes it is difficult to see any concrete deliverables as yet.
Eighty five per cent of businesses in the countryside are not engaged in farming or forestry. The rural economy as a whole is 19 per cent less productive than the national average. Closing this gap would add 43bn to UK GVA. Labour needs a laser-like focus on understanding the causes of this productivity gap, and it must work together with the industry to develop policies designed to close it.
The rural economy has extraordinary potential, and we deserve a Government that will share in the ambition of rural businesses and communities. Labour is making the right noises, but as with all other political parties, it is still some way off a meaningful economic strategy for the countryside.