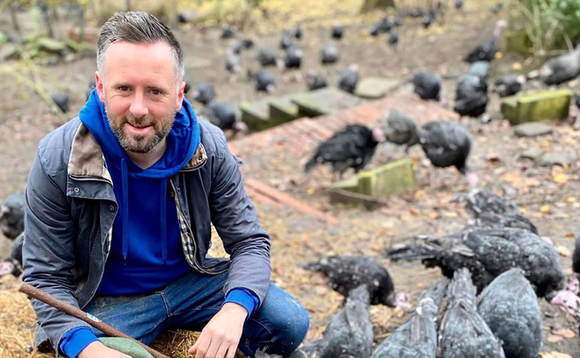 Paul White has recently begun his farming career, with six acres of land in the heart of Lancashire running Lonk sheep and turkeys. Here, he tell Farmers Guardian the ups and downs of the journey so far.
After what has been quite a quiet time, we have had a really busy last couple of weeks.
We had a flystrike outbreak with the sheep - our first real health issue. Many of you will know how horrid flystrike can be.
On top of which, Lonks are a hill breed meaning they are pretty wild and pretty wise, so they have learnt what we are trying to do. Even though we tried to feed the sheep in the handling system regularly they know when it is not feeding time and when it is time to do something else with them, so that took three attempts over three days to round them up.
Massive thanks to Catherine at Stanley House Vets who has the patience of a saint. It involved the whole family having to come and try to round them up and it has made us think about whether we need to be more organised in handling the sheep in terms of the handling system but also whether we need a quad bike or a dog.
Upscaling the farm business
Because we only have a relatively small number it is a big expense so maybe we ought to upscale the sheep quicker to justify the expensive machinery.
We have now moved into turkey season again. That is how I got into farming 12 months ago, and we are doing things a little bit differently there this year.
There are lots of challenges in the poultry industry at the moment from avian flu to the price of grain rising. This has led to lots of turkey farmers leaving the industry, which for us as new entrants makes a perfect time to get in, and there are very few people entering the industry.
Christmas turkeys
We farmed turkeys in a fairly small way last year, with 200 birds. We wanted to learn the intricacies of them, before moving to a new site with 500 birds this year. Other changes this year include Conor joining me as business partner, and a new, big shed.
We are pretty happy with the set up and the turkeys arrived a few weeks ago now and they are thriving in the new setup. We made it much more efficient for ourselves in terms of bulk ordering feed, being able to handle them better, better shed, better fencing. The turkeys are going really well, we learned lots from last year. The idea was to learn lots from last year and then to upscale which we have done quite significantly, and we decided to market earlier.
There is likely to be less availability of turkeys this year and the price is certainly higher.
There is a really good margin in turkeys. They are selling for the price effectively of a fat lamb - we may make 10 or 15 on the fat lamb, but would probably make at least 50 on a turkey. And, of course, you are not looking after them all year round so for us it presents the perfect opportunity. The turkeys are now on sale under the Pauls Turkey brand, and we are really enjoying being back in the full swing. It is a definite step change in the intensity because they need a lot of looking after compared to the sheep which were just looking after themselves almost. But we are enjoying those cold early mornings as autumn starts to roll in and we look across the Pennies at the beautiful sunrise.
We are now also beginning to look at next year. I am hoping to get a small line into a supermarket next year which will give us the potential then to upscale significantly.
Telling farmings story
I have also had my interview for the British Farming Awards. I have been shortlisted for the New Entrant Award which is really exciting.
I thoroughly enjoyed the interview and being able to tell people about what we are doing and how we are getting on with it. One of the big things for me is selling directly to the consumer and being able to tell the story of the product. For me, the reason I like to do that is because we are able to add the value to the product.
The awards are in October, and we will find out how we did, but regardless I was absolutely astounded to be in that category and really enjoyed the experience of the judging panel.