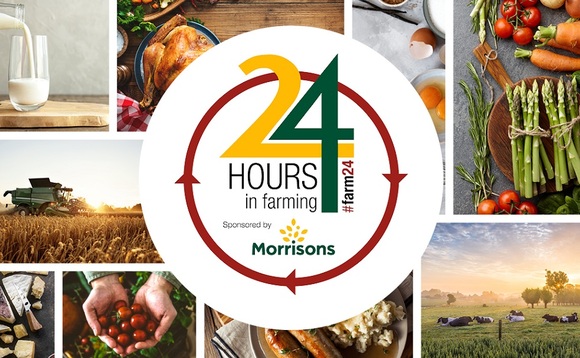 Back for 2021, farming's biggest online event #Farm24, in partnership with Morrisons, will celebrate British farming; sharing the farm to fork journey and showing the huge variety of roles and responsibilities taken on by farmers up and down the country.
24 Hours in Farming, launched by Farmers Guardian and supported by Morrisons, is agriculture's biggest social media event and will take place on August 5 at 5am to 5am August 6.
Using the hashtag #Farm24, the aim is to champion the industry and showcase the vital role farmers play in food production and as custodians of the countryside.
As shoppers have drastically changed their retail habits over the last 12 months, public awareness of the crucial role farmers play in feeding the nation and enhancing the environment has never been higher.
Consumers are also being asked to pledge their support in a host of different ways by visiting www.24HoursinFarming.com and access free resources.
Sophie Throup, head of agriculture and fisheries and sustainable sourcing at Morrisons, said: "As British farming's biggest direct supermarket customer, we're proud to continue to support #Farm24. It's been a year full of unprecedented change around the world due to Covid-19.
"We know customers care deeply about supporting British farmers and in a year when farming has been so close to the centre of public attention, it's great to carry on these positive conversations with the public, welcoming people into a world that we're all proud of."
10 WAYS TO GET INVOLVED
Use #Farm24 on social media to:
Share a day in your life
Show how you're bringing the nation together
Tell us about your farm
Snap your favourite machinery
Share your livestock or crops
Tell us how you got into farming
Show what makes you proud
Share the sounds of the countryside
Show where food comes from
Tell us why #FarmingCAN be trusted
We can't wait to see your pictures and videos!
Download your pledge pack today at www.24HoursInFarming.com