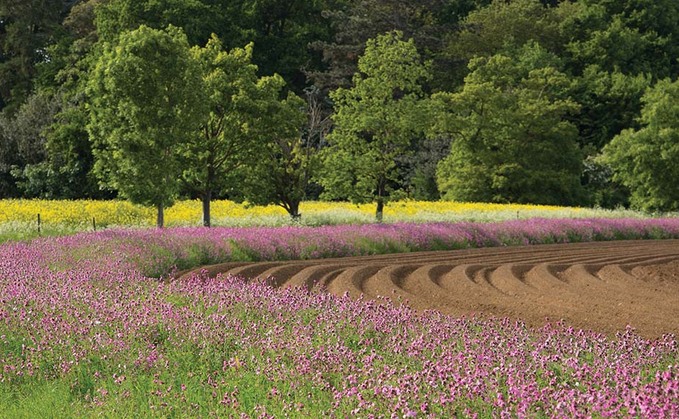 Today marks the launch of Farmers Guardian's #FarmingCAN campaign to showcase what farming delivers for the nation and how it can be a key block as the country rebuilds from the pandemic.
A new consumer facing campaign showcasing what British farming can deliver for society and the benefits which filter back though the economy has been launched by Farmers Guardian.
Launching today (April 30) across print, digital and social media channels, #FarmingCAN will celebrate and promote what British farming is already doing across 70 per cent of the British Isles, while also highlighting its potential, enthusiasm, and innovative spirit.
Backed by farmers, rural organisations, environmental and consumer groups as well as politicians, celebrities and social media influencers, #FarmingCAN shows what the UK agricultural sector is capable of when given the right tools and political frameworks.
Landing at a time when policy makers are taking decisions that will see the industry go through its biggest shake-up since the Second World War, the campaign will shine a light on UK farmers' role in producing more food, more efficiently and exporting to more markets, while generating more energy, mitigating climate change, improving biodiversity, water and soil quality; being more inclusive and using its knowledge to help feed and protect the planet.
Prime Minister Boris Johnson said: "Our farmers have played a vital role, working day and night, rain or shine, to keep our shelves stocked and the nation fed throughout the pandemic.
"I am proud to back the #FarmingCAN campaign which will shine a light on the enormous contribution they make to our communities and I am determined that now we have left the EU we finally put the interests of our British farmers first.
"The farming community will always have the Government's full support and together I know we will deliver a bright future for British farming."
The campaign, which complements FG's well established 24 Hours in Farming initiative, taking place this year on August 5, comes at a time when, following the Covid-19 pandemic, public support for British farmers has never been higher
Union chiefs said as well as showcasing the ambition of those working in agriculture and its allied industries, Farming Can will help communicate farming's story to the masses.
Enhancing
NFU Cymru president John Davies said: "Whether it be the production of healthy, sustainable food, caring for the environment, enhancing biodiversity, boosting the rural economy or championing local and national culture, farmers across Great Britain have a fantastic story to tell. We are delighted to support Farmers Guardian's #FarmingCAN campaign, which we are sure will be an effective tool in showcasing all of those fantastic examples of farming delivering for people and communities."
NFU Scotland president Martin Kennedy said: "Public support and recognition for the incredible work farmers and crofters do has never been higher as we successfully met our pledge throughout this pandemic to keep food and drink on the table.
"When you build in what farming and crofting are delivering in terms of tackling climate change, the rural economy, biodiversity and the environment, we have an incredible story to share with consumers."
Farmers' Union of Wales president Glyn Roberts highlighted the range of benefits farmers deliver, 'from producing food to looking after our environment, keeping the wheels of the rural economy turning; they connect communities and keep our culture alive. And farming can do so much more'.
Caroline Drummond, chief executive, LEAF (Linking Environment And Farming) said highlighting this ambition and potential was key when engaging with the public.
Done right, she said it would help build on consumer trust and inspire future generations to look at the 'exciting and varied' career opportunities available in the sector.
"#FarmingCAN is a wonderful opportunity to work together and champion all that British Farming and the supporting industries deliver - for our economy, environment, planet and people," said Ms Drummond.
CLA president Mark Bridgeman added: "Farmers and land managers have the most fantastic story to tell - and through the #FarmingCAN campaign we can better work together to show that, so often, we are providing the answers to some of the greatest challenges of our time."
Commenting on the 12-month #FarmingCAN programme, Tenant Farmers Association chief executive George Dunn, said it would 'creatively communicate the centrality of farming to the life of the nation'.
The Prince's Countryside Fund (PCF), along with the five charities under the Farming Help banner - Addington Fund, RABI, RSABI, Farming Community Network and Forage Aid - have also thrown their weight behind the campaign.
Keith Halstead, PCF executive director, added: "We believe in thriving family farms and rural communities who are recognised for their role in creating a sustainable future for the countryside and our whole nation - through providing the food we eat, caring for nature and the environment, and looking after the beautiful British countryside which we all enjoy so much."
Supporting
RSABI chief executive Nina Clancy said it would showcase the 'incredible impact farming has on all our lives', while Addington Fund chief executive Bill Young highlighted Farming Help's role in supporting farmers and rural people as they continue to deliver, 'often going the extra mile to keep us all fed', all year round.
RABI chief executive Alicia Chivers added: "It is increasingly important to showcase the valuable contribution our farming people make on a personal level, as well as highlighting the role the sector plays more widely; providing employment in rural areas, delivering for the economy and feeding the nation.
"#FarmingCAN is an excellent way to promote the positive impacts and importance of the agricultural sector."
The National Trust, which will communicate Farming Can's messages to its 6 million members, said the industry had a long history of responding to big, historic challenges, adding it was confident farmers would set a new path for future generations.
Rosie Hails, the trust's director of science and nature, said: "Already we are beginning to see how pivotal farming's role will be in tackling the climate crisis and protecting nature.
"With Brexit, the forthcoming Environment Bill, and the challenges the country faces as we recover from the coronavirus pandemic - farming has a once in a generation opportunity to create a more sustainable industry that puts nature, wildlife and our natural resources at the very heart of its business model."
Prof Angela Karp, director, Rothamsted Research, praised agriculture's natural ability to innovate, adding farmers were among the UK's 'most proactive environmental scientists'.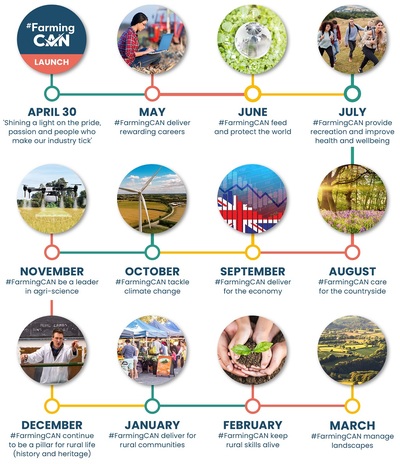 Ministers give their backing
Collaboration will be essential as farming stands on the precipice of major change, Farming Minister Victoria Prentis said as she backed #FarmingCAN.

"I firmly believe that there is no limit to what our farmers can achieve, especially when they join forces to protect their local landscapes, and this Government will be there every step of the way to provide the support they need to be able to do this alongside feeding the nation," she said, writing in a blog for the #FarmingCAN online hub.
Defra Secretary George Eustice added: "#Farming CAN is a great initiative to showcase the great achievements of British farming. The pandemic has been a reminder that domestic food production makes up
a critical component of our nation's food security."

International Trade Secretary Liz Truss, in a Farmers Guardian blog to mark Great British Beef Week, pointed
to the opportunities for farmers to grow their businesses through exporting, 'which supports higher pay, more jobs and prosperity at home'.

She added: "Last year, we exported over £382 million worth of beef across the world from the Atlantic to the Pacific. That is testament to the dedication of our hard-working farmers, rightly championed by FG's fantastic campaign #FarmingCAN."
Read the Ministers' blogs in full at FGinsight.com/FarmingCAN