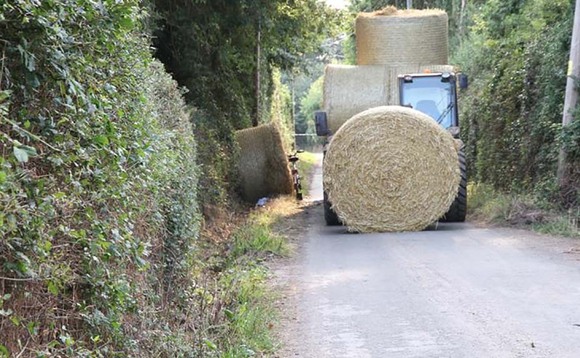 Police said it should serve as a warning to motorists to make sure they secured their loads
A farm worker left a cyclist with life-changing head injuries after he was hit by a bale of hay which had not been secured properly on a trailer.
Matthew Shapcott was carrying a load of nine bales a kilometre from a field at Netherexe, near Crediton, to a farm yard when the accident happened.
Retired train driver Kenneth Bridle was cycling the opposite way down the narrow lane when Shapcott stopped to let him past and the jolt dislodged one of two bales which were loaded on top of others in the trailer.
Accident
It toppled directly onto him, causing a double fracture of his spine and head injuries that have left him with double vision, and problems with mobility, memory and cognitive function.
The 69-year-old only survived because two air ambulances attended within minutes, one of them carrying a trauma specialist doctor.
He was airlifted to Derriford Hospital, Plymouth, and put in an induced coma for 13 days while doctors treated two bleeds on his brain. He also suffered fractures to his shoulder and two vertebrae.
He still suffers from double vision and nervous palsy and further surgery to relieve his symptoms has been delayed by the Covid pandemic.
Police found straps in the cab of the JCB tractor unit which could have been used to secure the bales safely in just ten minutes. Shapcott told police he would have used them if the journey had been longer or on uneven ground.
A judge at Exeter Crown Court told him the offence had been caused by an uncharacteristic moment of laziness.
Shapcott, aged 39, of Wyndham Road, Silverton, admitted causing serious injury by dangerous driving and was jailed for a year, suspended for 18 months by Judge David Evans.
He was also banned from driving for two years with an extended retest and ordered to do 140 hours of unpaid community work and pay £425 costs.
The judge said: "There was an entirely foreseeable risk in driving the trailer loaded with unsecured bales stacked in this way. If you had been stopped and asked if they were safe as you came out of the field, you would have answered that of course they were not.
"This was a case of you uncharacteristically taking a short cut and perhaps it was a piece of laziness. You thereby created an obvious risk of catastrophe."
Catastrophe
Mr Christopher Rowe, defending, said Shapcott is so burdened with grief that he has become withdrawn. He has written to Mr and Mrs Bridle to apologise and expressed genuine remorse from the outset.
Friends and family described him as a normally conscientious, hard working family man who helps with a local scout group and runs a shoot.
After the case, Motor Patrol Constable Hamilton-Schaschke, said it was entirely avoidable if the load had been secured.
"The victim's quality of life and independence has been severely impaired.
"Shapcott's lax attitude to what was a simple but essential safety measure has had a catastrophic impact upon the victim who has been robbed of what should have been a relaxing retirement.
"This incident should serve as a reminder to motorists to ensure they secure their loads, whatever it is they are transporting, wherever they are going, when travelling on public roads, so tragedies such as this are avoided."