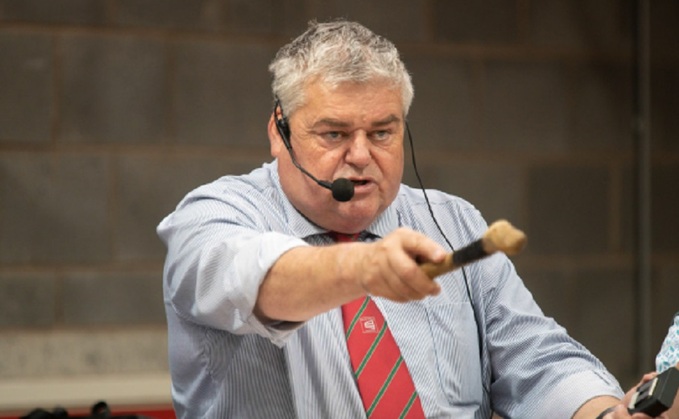 Richard Hyde on prices and production.
The rise in animal feed prices after the beginning of the Ukraine war seems to have been absorbed unbelievably well by the purchasers of store bulls, cattle and lambs alike, without a significant dip in trade.

The confidence in the livestock sector generally is incredibly buoyant.
Breeding ewes remained firm throughout the season and, for the past six weeks, we have had between 7,000 and 9,000 lambs through the ring in Hereford, with an incredibly strong trade.

December 20 saw lambs from 8-122, averaging 73.71.

In July 2020, we took over Builth Wells Market, to add to Hereford and Talgarth, and in the first year converted the cattle pens to 177 sheep pens.
In 2021, the unloading bays were extended to accommodate more sheep and a further 90 new sheep pens were added.

This year, the old sheep pens from 1918 were replaced by 196 new sheep pens, together with three new unloading bays.
The market has been transformed and now we can regularly accommodate 5,000 sheep per week, with a maximum of 4,500 lambs and 1,700 cull ewes.

Builth Market has been a tremendous success, but mid and north Powys has the highest density sheep population in the world, so maybe it was not quite such the gamble we initially thought.
Assurance
At a recent NFU livestock committee meeting it was discussed that the uptake of farm assurance for sheep was declining.

This is hardly a surprise as we do not have any supermarket purchasers in any of our markets to give a premium for farm assured sheep.

If we all want farm assurance to thrive, the supermarkets should play their part and purchase farm assured sheep from markets to provide the premium to incentivise producers to remain farm assured.

Markets are regulated, inspected and rated much more than collection centres, so what is the problem with market livestock?

Sadly, we all know the answer.

The elephant in the room for me is still food production.

We all know that more should be done to restrict carbon emissions and so reduce global warming.

Has anybody canvased Putin on the subject? He is covering Ukraine with depleted uranium, I cannot see him being bothered by carbon emissions.
Sadly, many countries cannot afford to take measures.

We should all do our part and boycott goods from countries which cannot, or will not, do their part, but is this really a possibility?

What we can do is to put more emphasis on food production.

The 'bomb' weather event which has affected the US and Japan could deal a devastating blow to food production.
An air of temperature of -23degC sustained for two hours, without snow cover, will kill winter wheat.
Temperatures in the US plummeted to -45degC.
Richard Hyde
Richard Hyde is auctioneer at Hereford Market Auctioneers. Call 07977 467 165, or email [email protected]