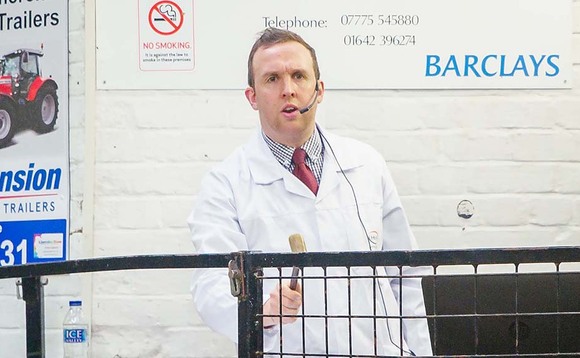 James Little on the autumn sale period.
We are now in the midst of the busy autumn period and it has been more challenging, in terms of values, than we have seen in recent times.

As a result of the droughts in the south of the country, there has not been the demand, especially for the smaller running Mule gimmer lambs from our regular southern buyers.

However, pedigree sheep have sold exceptionally well and our tup sales across all centres have been good.

At our annual Beltex breeding sale we saw a Beltex shearling tup go for 50,000gns and our recent Traditional Bluefaced Leicester sale set a record for a tup of 23,000.
We also set a double centre record at Broughton Auction Mart for a Herdwick tup lamb and a pen of five Herdwick ewes, selling for 10,000gns and 400 per head respectively.
Collectively, across our centres in August, our turnover for pedigree sheep rose by 1 million on the year.

Earlier this week (October 12) saw Harrison and Hetherington's most phenomenal sales day ever, with the company seeing a 2.3m throughput.

This included our weekly Borderway sale, with more than 1,900 cattle sold, most were store cattle, along with dairy cattle and calves.

The same day, the Swaledale A District ram sale took place at Middleton-in-Teesdale and saw 270 go under the hammer, with a tup topping at 12,000.
Running alongside this sale was the second sale of Mule lambs at Lazonby, which saw 6,500 lambs pass through the ring.
Further complementing the day, at Wooler Mart, 1,665 prime sheep were sold.

While buoyant prices are good for business and turnover, one of the worrying factors is the volume of stock coming forward of all types.

Here at Borderway, in the last three weeks alone, we have sold in excess of 1,500 cast cows and this does not bode well for the future.

If we continue to see a decline in numbers across the industry, the number of breeding stock remaining on farms in the sheep and beef sectors will not meet market demands.

With numbers being cut and feed and running costs at high levels, farmers are not going to be keeping anything that is not needed.
We are planning Kirkby Stephen Auction Mart's C District Swaledale sheep sale, which sees about 1,000 tups go through the ring.

Last weekend saw the commencement of the autumn bull sale season, with 173 bulls put forward for the British Limousin Society bull sale.

As expected, top end bulls from the noted pedigree herds were in demand and achieved good prices.
Trade for the lesser end bulls was akin to the breeding sales in the sheep sector, with values less on the year and clearance rates not at the same levels seen in the last 24 months.

An important date is Borderway Agri-Expo on October 28. This year the programme boasts a wonderful line-up of livestock and trade stands.

I am looking forward to auctioning a pair of Beltex lambs in aid of the My Name'5 Doddie Foundation, the official charity of Borderway Agri-Expo 2022.
Donations can be made on the day, or by visiting myname5doddie.enthuse.com/AgriExpo2022
James Little
James Little is pedigree sales manager at Borderway Mart for Harrison and Hetherington. Call 07872 840 685, or email [email protected]