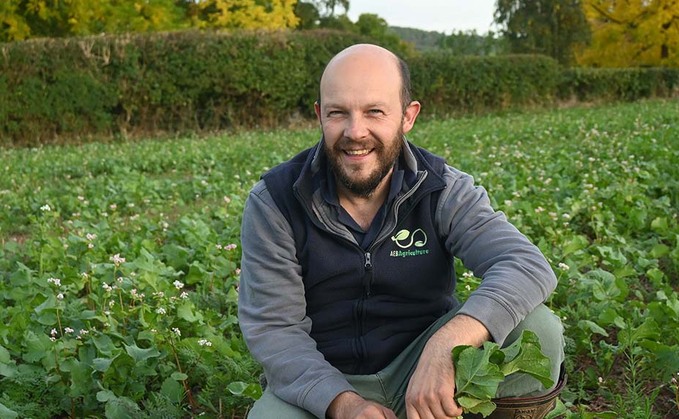 July is a month that sees our annual inquisition take place. In order to fully access the global commodity market, I willingly sign up and pay an assurance scheme.
The inspector arrived earlier than originally agreed and the coffee scorched the back of my throat as I chugged it down. We started off with the walk around the farmyard. Thankfully my chemical store had a sign instructing it to be locked, that no one should be smoking or waving naked flames (one presumes pitchforks are okay, just not the torches) or that anyone without a level 5 security clearance should be allowed within 50 metres. It was noted that the razor wire maybe 'overkill'.
Apparently, a yellow warning triangle explaining it was a chemical store was no longer sufficient to ward off the average thrill-seeker looking to get a sniff of some tebuconazole.
So far so good. The grain stores had been swept to within an inch of their life. My father and our trusty harvest student had spent the best part of two days with dust masks, brooms and leaf blowers ruining any washing that had been hung out within half a mile of the place.
Having previously been burned by other inspectors, this one was delighted that my trailers had all the correct assurance and ID numbers plastered up the sides. That way, any eagle-eyed weighbridge operator would know exactly which one of our two grain trailers was appearing at their store. Identifying them as Maverick and Goose was a distant memory. T1 and T2 are now their official call signs.
The only blemish on the walkabout was that the personnel door on Grain Store 2 (yes, we're those people now) had a slight gap that a photon-sized rodent might get through. Damn it.
We moved inside. We don't have a posh outside farm office that was once a pigsty or dairy, so the kitchen table was the chosen arena from which my record keeping credentials would be tested.
Three ring binders were placed neatly across the table. The coffee machine, still warm from my previous visit, fired back into action. The capsule was locked and loaded, then the button pressed.
"Tea for me please," asked my examiner. I could see this wasn't his first rodeo. I was up against a master.
Overdosed on caffeine, I began nervously presenting him with moisture meter calibrations, health and safety policies, mass balance sheets and certificates of competence. A volley of requests came at me. I was sent into a flat spin of chemical recommendations and seed tickets. The table was now littered like a film set in 1990s Manhattan.
Slowly, painstakingly, the boxes were ticked off. Finally, the moment of truth approached. The little printer emerged from its special case. A power socket was provided. It whirred into life and off came the piece of paper I had been waiting for.
"No non-conformances".
A sense of relief swept over me, a feeling I hadn't experienced since Mark Selby's 147 break way back in April. I shook his hand and we parted company in good spirits.
"It might be someone else next year," he said as he got into his Bentley.
I pondered what had just occurred. A good three days of preparation and a lot of different coloured pens had all been for this moment.
As I gazed down at a text alert from a trader that the market had fallen by another couple of quid, I knew in my heart, it had all been worth it. After all, being farm assured means my grain is perfectly traceable, just not worth any more.