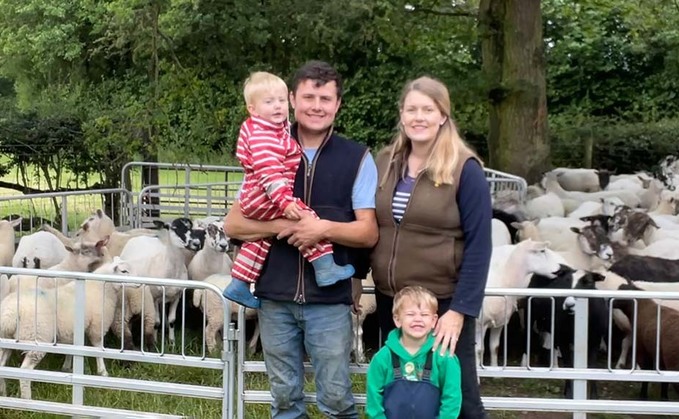 I am diving straight into this month's blog with fabulous news - since my last blog I want to confirm that I have not missed that 'ping' sound from Microsoft teams once.
I feel as if it was a bit like giving up caffeine or chocolate, and I still heard that noise in my sleep for the first couple of weeks.
It has been four weeks since I left the corporate world and entered into the family farm business, splitting my time between the farm and butchers' shop.
As I wrote last month, it has been a bit of nerve-racking time to say the least - leaving the world I have worked in for so many years, accompanied by all its perks, to work with family for the first time in an area I really do not know much about.
The first couple of weeks were a bit of a blur and a very steep learning curve. For starters, we all had a new routine to settle into, which with three children and a farmer husband was not exactly easy. Accompanied by us trying to work out the best way to approach the tasks on hand and where time is best spent, the little things like cooking dinner and the housework got thrown out the window.
Add on another two weeks and it feels like the corporate world is far behind me. It feels like I have worked here for a lot longer than just four weeks, and right now, I can honestly say I am thoroughly enjoying it and as a family I think we are finding our stride.
So, what have I been up to? Well, with a family farm and butchers' shop, my time has been very much focussed on the shop. The farm is pretty much into what I call 'tractor season' right now, mowing, tedding, baling and bale carting. Soon it will be harvest, and quite honestly, learning to drive a tractor is not on my desirable list. I will need to learn to drive the tractor in winter for use of the straw chopper and feed, but I do not have any interest in being sat driving up and down a field all day. So, I am avoiding that at the moment although I have avoided it for 10 years.
My husband is occupied in the fields, so it has meant I have been able to spend my time focussed on the shop. I know how to cook food, and I certainly enjoy eating food, but I have zero knowledge when it comes to butchery and preparation of food at the butchers' shop.
Just like when I started to learn about farming, I am at the beginning of one very long journey.
Firstly, I have to say what an underappreciated art butchery is. The butchers and bakers at our shop, I really must give credit to them. I have started with the basics, learning to produce and bake sausage rolls, pasties, pork pies, an array of meat and fruit pies as well as pastry and scotch eggs. Although I cook and bake at home, often making a sausage roll or two for a picnic, I have never produced scotch eggs from scratch or jellied a pork pie. My pasty crimping skills certainly left little to be desired for a few weeks, but even they are coming on a treat, if I may say so.
Everything is freshly made and baked in the shop each morning. We follow the same techniques and procedures every day to give the same quality cooked products, and that element of the shop I am getting the hang of, but the actual butchery, well, that is certainly for another day.
The butchery is a skill that is a lost talent, unseen in today's supermarkets, and I think unknown to the general public. As silly as it sounds, I was sent to get a rib of beef from the cold fridge, and obvious as the description is, I have not ever seen a rib of beef, let alone needed to select one from a line-up of carcases and cuts.
Even after getting our meat from the butchers' shop for all these years, having many conversations stood watching my father-in-law actively cutting up the meat joints, I realised how little attention I have ever paid to the physical process from carcass to end product.
It mirrors the journey I went on when I first met my husband, when I started to realise that the fields all around were producing the food we eat, noticing the lambs, the tractors, the wheat that before I was so ignorantly unaware of. I now realise how unaware I am as to what part of the animal, and the preparation that goes into taking that from carcass to the final product.
Although I do not think I will ever be a master butcher, I am looking forward to acquiring new skills and challenging myself in this new environment as the year progresses.
We are in a time where prices are rising, and we need to keep food affordable - with a family of five it is something we are certainly aware of and on my mind daily. That said, having seen the process that British farmers go through producing high welfare quality animals, to high quality butchered produce, how do we focus on quality and not quantity to ensure British farming maintains relevance in the market?
It is a question I ask myself most days at the moment, and as my journey continues I hope to use social media and my writing to shed some light on the process right from field to fork.