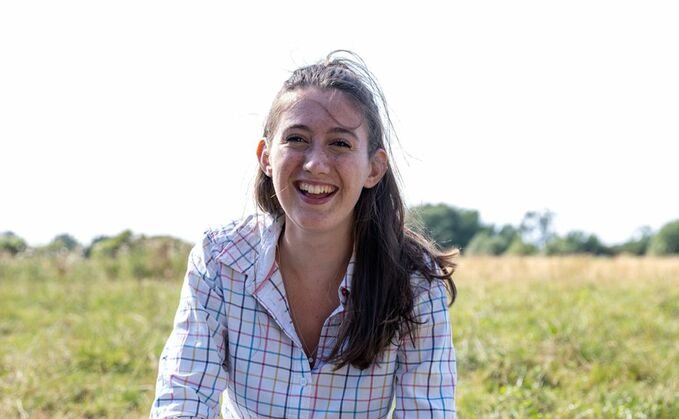 May Smith is a 21-year-old Harper Adams student studying BSc Agriculture.
I am forever grateful for the opportunity to participate in this year's McDonald's Progressive Young Farmers (PYF) work placement learning a whole new industry based at The Lakes Free Range Egg Company. As a newcomer to the poultry sector, this year has built my knowledge base, helping to train and develop skills for my future career.
This year has been packed with opportunities to travel the country, attending insight days showcasing learnings alongside an overview and tour of the companies that my fellow PYF members are placed with. As well as this, the Oxford Farming Conference and City Food and Drinks Lecture were a great way to network with the wider agricultural community, opening my eyes to the wide range of jobs available in the industry.
I have been fortunate to work in many different farming sectors so far, grabbing every chance to learn something new when working on dairy farms, helping at lambing time to now working with poultry. It has shaped my understanding of the real world of agriculture, learning from each system, and developing skills along the way - as we all know no two farms are the same.
A highlight for me was the 2022 lambing season, taking a step away from the comfort of lambing close to home in Hampshire and heading north to a farm at Hillswick, Shetland. It was inspiring to learn about completely different methods of farming, witnessing how farmers have adapted and become resilient to harsh weather conditions. Still working with passion and enthusiasm to produce the highest quality livestock despite steep input costs and concerns over the future viability of moving stock to the mainland.
I would recommend anyone thinking about an agricultural career to gain experience across different parts of the industry, encouraging creativity and ambitious ideas to excel farming practices moving forward. It is noticeable that some sectors have less interaction than others, however, I have been able to transfer skills, ideas, and learnings to varying systems so would highly encourage more knowledge sharing within agriculture.
From a young age I tried sharing the magic of farming with others, encouraging friends to help on my grandad's pig and sheep farm; from feeding lambs to mucking out pens. Every one of these friends, although often squeamish at first, would get stuck right into helping, heading home smelly and tired but with a huge smile on their face. It was a privilege to share and give insight into the passion on farms and provide exposure to people without access to agriculture. I would encourage all farmers to invest even a small amount of time engaging any person in agriculture as those first experiences can have such a long-term impact.
Investing time into teaching the importance of farm production within food chains to the public will benefit all businesses. Over recent years a disconnect has grown between the producer, shops, and consumers, this is something that we should all take personal responsibility to change. Informing consumers the realities of where their food comes from, highlighting the time, labour, and care that goes into producing their daily produce. Especially in the current climate with inflated costs, helping people make conscious and informed choices when buying goods.
Working within the poultry (egg) industry throughout a time of Avian Influenza, rising costs of production and staff shortages has been a challenge with egg shortages putting pressure on suppliers across the country. Nevertheless, being based at The Lakes Free Range Egg Company throughout this time highlights to me how resilient the sector is, always finding ways to overcome rising challenges. This could be anything from helping producers to smoothly bring their hens into lay minimising risk of floor eggs to implementing biosecurity best practice across farms or being at the forefront of supermarket collaborations creating a more market reflective egg price.
I have also been pleasantly surprised by the conscious sustainability action within the poultry sector with so many positive environmental factors working hand in hand with best welfare and production methods. The Lakes Free Range Egg Company have planted over 250,000 trees stimulating biodiverse ranges, this is not only great for our planet but also improves hen welfare, encouraging natural behaviour as well as providing shelter from predators and extreme weather. Producers also see benefits with happier hens. This means improved feather cover therefore higher eggs laid per bird so increased profit. Trees are an all-round success.
Energy efficiency is also key within the company, from using renewable biomass energy to power a carbon neutral packing centre to having solar panels on shed roofs utilising space for efficient farm units. Feed is the biggest contributor to an eggs carbon footprint; with large quantities of soy present in rations. However, feed companies working with farms are doing all they can to focus on using sustainable protein, with trials being carried out on alternative proteins such as sunflower as well as adding peas or beans into rations all of which can grow locally without deforestation.
I respect the many challenges facing the agricultural industry, of which pressures from keeping on top of bills to managing a team of staff are a concerning weight on the shoulders of many individuals. Instead of dwelling on negatives take a minute to think about some industry positives. We are working in an age where developing technology and trials are happening across all sectors to improve our knowledge of livestock and arable operations. There is so much to learn, working with tried and tested methods alongside new, to implement the best welfare for livestock whilst hitting the best growth rates and highest quality produce. There will always be something to complain about, be it the weather or feed price. However, they are just some of the many contests we overcome in taking pride on putting high quality food on the plates of our nation, the most positive change often happens in time of great challenge.