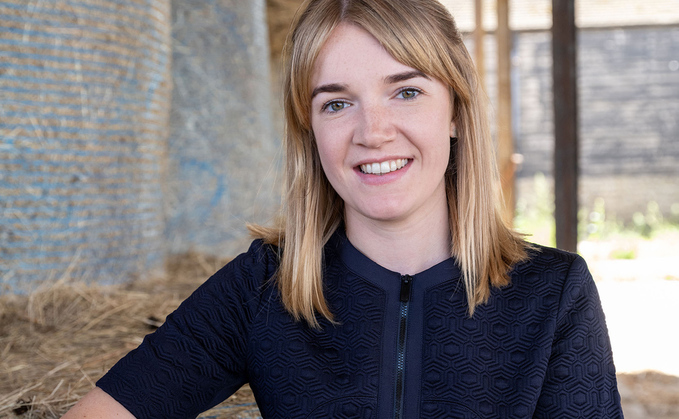 In a new series for Farmers Guardian, the 11 new recruits on the McDonald's Progressive Young Farmer (PYF) programme. Each month we follow one of the PYFs to see what they are doing.
Hello, my name is Alison and I am a McDonald's Root2Food Trainee. I was born and raised in a small town just outside Belfast, Northern Ireland where I attended school and university. My grandfather was a beef farmer but I do not hail from an agricultural background or have experience of farming myself.
At 25 years old, I am on the Root2Food placement and am the eldest McDonald's cohort having embarked on a career change last year. When it came to choosing what to study at university, I was very indecisive. I considered pursuing a degree in food science and nutrition and undertook work experience in an animal feed factory and a local dairy company.
However, despite always being interested in food and the environment and studying both biology and chemistry at A Level, I chose to study law. I did not feel confident in pursuing a career in the food industry - it was not something that was promoted, and I was unaware of the opportunities available.
After completing my law degree, I was offered a training contract and upon qualification, I practiced as an employment solicitor for a year. During my time in the legal profession, I undertook work in the renewable energy department and was also a sustainability champion for my local office.
I loved working on sustainability issues and that, in combination with my passion for food and the environment, prompted me to study a masters degree in Sustainable Food Systems at the University of Leeds. This programme took a holistic system thinking approach to understanding and considering how to address the sustainability issues existing across the food chain from farm to fork and beyond.
I am now delighted to be working within Arla Foods Customer Agriculture Team. My experience to date has been both interesting and exciting, having had the opportunity to attend on farm and internal team events, farmer meetings and contribute to ongoing sustainability projects and initiatives.
I recently accompanied the Agriculture, Sustainability and Communications to attend an internal sustainability event in Copenhagen, which has been a real highlight so far. This experience enabled me to understand how Arla is leading the way in terms of sustainability in the dairy industry and incentivising and supporting farmers to implement sustainable practices on farm.
Going forward, I am very much looking forward to working on farm with one of Arla's McDonald's aligned farmers in November to get an insight into exactly how hard Arla farmers work to produce our organic milk. I am also looking forward to visiting other suppliers and spending a week working in McDonalds head office with their UK and Ireland sustainability team.
We are living through uncertain and challenging times, but that makes working in food and farming even more interesting and rewarding. Issues such as climate change, food security, increasing costs and changing consumer preferences are all issues facing the industry today.
You do not have to come from an agricultural background to appreciate the importance of the natural environment and the provision of affordable, safe and nutritious food. Collaboration is required in order to promote and implement social, economic and environmental sustainability. In light of the array of complex challenges facing food and farming, we need stakeholders, from consumers right up to Government, to appreciate the hard work and importance of British food producers.
Inter and cross-disciplinary research, communication and understanding are required to address these issues. Therefore, those from different backgrounds and disciplines must be able to work together and share their skills and knowledge. I believe that through this placement, I can incentivise others to pursue careers in food and farming by demonstrating that you do not have to be from an agricultural background to succeed in this important and interesting sector. My legal background will continue be useful in understanding and complying with legislation whether it be in relation to the environment, food safety or animal welfare.
I hope to apply what I have learned from my masters degree, expand my knowledge of the agriculture industry and develop the skills required to help British farmers move towards a more sustainable future. I believe there is no better way to do this than by listening to, working with and supporting farmers themselves.
More info
For more info on how to apply please see below: