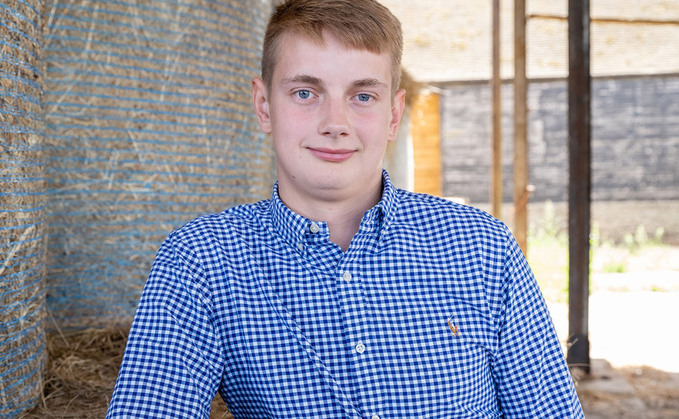 My name is Jack Thomas. I am 21 years old and studying BSc Agriculture at Harper Adams. During my third year of the course, I am undertaking my placement year as a McDonald's Progressive Young Farmer: working with McCain Foods, the UK's largest manufacturer of frozen potato products
Hailing from a mixed family farm, I have a keen interest in both livestock and arable agriculture.
My family farm is based near Land's End in West Cornwall, where we milk Holstein-Friesian dairy cows and grow early salad potatoes. All calves are kept and reared as either dairy replacements or as beef which are finished at around 24 months. With both the dairy and beef cattle, we try to maximise production from grazing.
On my placement with McCain, I have been working within the agriculture department, who are responsible for sourcing raw material for processing in a sustainable and traceable manner, while ensuring a fair price for growers. I have been working largely in the agronomy department, where I have gained a huge amount of knowledge.
I have been involved with new variety development and it has been extremely eye-opening to witness the work that goes into creating new potato varieties, as well as the stringent specifications that an upcoming variety must meet to be taken further in the development process.
McCain organise demonstration days where they invite growers to field trials.
These events illustrate the work and investment McCain are putting into trials to improve economic and environmental efficiency, as well as transferring knowledge and trial results to growers to help them improve their farming practices.
I have also been supporting the supply and operations team, which has been particularly challenging this season with the summer drought significantly impacting both crop yield and quality. I have been assisting the team to ensure that size and quality specifications in the factory are met.
McCain have committed to implementing regenerative agricultural practices across 100 per cent of its global potato acreage by 2030.
To do this, they have created a framework for growers to follow and have offered grants for planting multi-species cover crops.
They have also offered financial incentives to support the long-term sustainable supply of British potatoes, with grants available for items such as self-propelled harvesters and irrigation infrastructure.
One section of the McCain regenerative framework involves livestock integration. There is a bright spotlight shone on reducing red meat and dairy consumption to improve your environmental footprint.
Coming from a livestock background, I may be slightly biased on the subject, but I believe that livestock inclusion and integration (particularly ruminant livestock) in the arable rotation is a key to regenerative agriculture and reducing the carbon footprint of the agriculture industry.
The traditional arable crop rotation can be very intensive, with very little being put back into the soil. The commonly drilled 'break' crop of oilseed rape has no real environmental or soil health benefits like a grass crop does - it simply provides a different species in the rotation other than a cereal.
Including grazing livestock in the potato/arable rotation gives an opening for a short/medium term diverse multi-species grass ley to be drilled, which will greatly benefit future crops as well as the environment (and Countryside Stewardship will pay you for this).
Legumes such as clover will fix nitrogen in the soil, reducing future need for inorganic nitrogen application.
Deep rooting herbs such as chicory are more drought tolerant and will alleviate soil compaction with its penetrative roots.
Having these deep rooting herbs in a grass ley is an effective risk mitigation strategy against climate change.
In drought years similar to the summer experienced last year, productivity of herbal leys will not be impacted as much as that of a standard grass ley – species like chicory and plantain have taproots reaching up to 1.5 metres into the soil profile. This means they are able to access water reserves deep in the soil and therefore continue to photosynthesise when the topsoil has little to no moisture.
Grazing the livestock will have an even greater benefit to soil health as the animals will cut their own grass and spread their own dung – reducing machinery traffic on the field.
Including even a short-term grass ley will improve your soil health, which has a snowball effect of benefits – higher soil organic matter and improved drainage, leading to higher yields and less inorganic fertiliser requirement.
Applying organic manures to land can help to improve carbon footprint as well as reduce the amount of inorganic fertiliser required, which I am sure many farmers will be eager to do after seeing last year's eye-watering prices. Many arable farmers are moving towards direct drill and min-till practices which maintains soil structure.
However, having potatoes in the rotation is a good opportunity to incorporate organic manure into the soil – maximising the beneficial impacts as microbes deeper in the soil profile are able to utilise nutrients from the manure.
Unfortunately, due to global warming, extreme weather events like the drought experienced last summer will become more frequent.
As opposed to occurring once in every 10 years, they are now occurring once in every three to four years (many farmers will have bad memories of the 2018 drought followed by the 2019 floods). If action is not taken to prevent climate change, these events could occur even more frequently, which would have a detrimental effect on UK food production.
I believe farmers must act now and practice agriculture in a more sustainable way to ensure their own future economic stability.