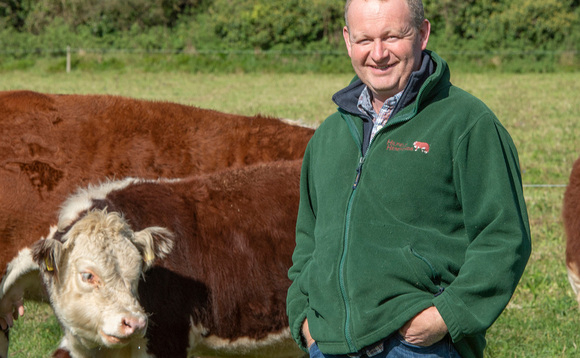 There has been bad news this month - and Im still coming to terms with it - Ken Bruces announcement that he is leaving BBC Radio 2. Who saw that coming?
The staple radio channel of any self-respecting tractor driver doing the monotonous morning chores of scraping yards and strawing down will never be the same again after March.
Swapping channels to follow him on his new home on commercial radio with the repeat playlists and annoying advertisements does not hold the same appeal somehow.
I reckon that the human life cycle stages can measured by the radio channel you listen to and, now that Im in the 50-plus age range, it might be time to migrate permanently to Radio 4. I just need a quick precis of The Archers first of all.
On the subject of departures, I have said goodbye to two very different things over the last few weeks.
Firstly I decided to terminate my membership with the NFU. While I greatly admire the hard work of Minette Batters in her role of president and how she has raised the profile of farming in the public eye, the organisation is more than a one-person outfit that it often appears to be, and I have struggled to see what my ever-increasing membership fee is going towards.
It seems to me that all the lobbying that is supposedly happening does not make the Government change course one iota with its predominantly anti-farming policies.
Recently struck trade deals and the procrastination over the replacement for the Basic Payment Scheme (BPS) have been both extremely badly handled, for example.
If the NFU held sway in any shape or form with the Government, surely there would have been better outcomes.
Can you imagine Mick Lynch, of the RMT trade union, saying to his members that a huge pay cut on the scale of the disappearance of BPS is acceptable and everything will be fine, just because you can attend a resilience workshop with a free pasty meal to make things better?
My second departure has been from the Marmite social media platform that is Twitter. Love it or loathe it, I have come to the decision that is the latter of the two.
In its early days it was a forum for healthy debate and sharing your viewpoint on matters.
Today, I feel that there is an increasingly negative element to it, which probably sadly mirrors a lot of what is happening in the world at the moment. Deleting the app was strangely liberating.
With our Hereford herd due to start calving any day now, there will no doubt be a few sleepless nights ahead, but we are looking forward to welcoming the next generation of young progeny onto the farm.
Who needs the Twitter app on your iPhone anyway when you can watch cow cam from the calving shed instead?