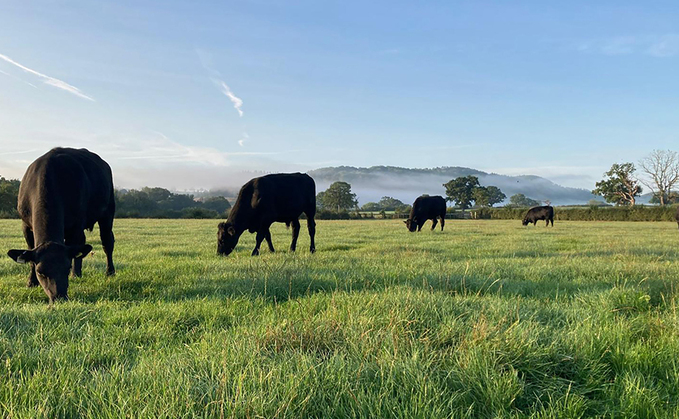 Launched by the School of Sustainable Food and Farming (SSFF), the Journey to Net Zero competition has an investment pot of 50,000 to financially support farmers developing sustainable farming practices. Some of the competitions sponsors discuss the work they or their customers are already doing to reach net zero.
BRONGAIN FARM, MID WALES

Brongain Farm is making good progress towards its ambitious target of achieving carbon neutral status by 2030.
Owned and run by father and son team, Greg and Rowan Pickstock, it has already achieved a 31 per cent reduction in carbon emissions since the 2020 baseline.
Established as an innovation farm as part of a collaborative project involving McDonalds UK and Ireland and OSI Food Solutions, the team is working with the Carbon Trust to validate this impressive data.
Genetics form a cornerstone of the project and Tom Gill, Promar Head of Sustainability and leader of the beef pathway project at Brongain Farm, says harnessing the power of genetic gain can fast-track emission reduction.
Working alongside leading genetics experts, we identified sires which will produce more efficient calves for grazing and housed systems.
Our data has shown a reduction in the days to slaughter by hitting the target level of daily liveweight gain from grass with minimal health issues.

This is an important metric for reducing methane emissions. We are seeing a 13 per cent reduction in carbon emissions from genetic improvement alone.
Feeding is also an important contributory factor, and nutritionist Iwan Vaughan says: Over the last three years we have set up a rotational grazing system which has allowed us to significantly increase grass growth and quality.
This also enables us to leave animals out at grass for between eight and nine months each year. We have also sought to improve silage quality and now achieve four cuts every year.
This has allowed us to reduce concentrate use. Carbon sequestration has a role to play in the overall reduction in the carbon footprint of any production system.

Carbon storage

Mr Gill explains how different interventions can influence soil carbon storage: We are seeking to improve our understanding of how multi-species leys can increase soil organic matter levels compared to traditional ryegrass swards and how we can improve green infrastructure across the farm, such as hedgerows and woodland.
We also want to identify parcels where we can use no-till effectively. Harriet Wilson, agriculture and sustainable sourcing manager with McDonalds, points to the importance of this projects aim of achieving net zero across its value chain by 2040.
As part of our journey to net zero, we are committed to leading the change on beef sustainability and supporting the farmers who supply us.

By investing in research and innovation, we can share the learning far and wide across the beef industry to help farmers identify the greatest opportunities to reduce emissions, which can generally work alongside increased profitability, she adds.
---
Farm facts
Brongain Farm is situated in Mid Wales and extends to 324 hectares (800 acres), mainly grassland and some recently established herbal leys
A herd of 1,400 dairy cross Aberdeen-Angus and Hereford cattle are finished at the farm, predominantly on grass and silage
---
MICHAEL KAVANAGH, THOMPSON FARMS, WOLVERHAMPTON, WEST MIDLANDS
When he became farm manager at Thompson Farms, Michael Kavanagh inherited a legacy of land which had been farmed conventionally for many years.

He realised something needed to change if he was to accomplish his goal of creating a profitable and sustainable farm business without relying on the rent from root crops and vegetables.
Mr Kavanagh says: Church Farm really needed a reset button and I wanted to see how I could farm without relying on synthetic inputs which mask problems.
The more I have learned about what is possible once you step off the conventional hamster wheel the more I am enthused about farming in a different way.
Reducing cultivations was a first step, alongside diversifying the rotation to include a greater proportion of spring crops, such as barley, beans and quinoa.

We still grow winter milling wheat, winter oats and oilseed rape but cover crops are always grown ahead of spring crops.
We try to include eight to 10 different species in our mixtures and we graze these to finish lambs and with our flock of Lleyn ewes over the winter.

Over six years, soil organic matter levels have increased from 2.5 per cent to 3.25 per cent. This is a real game changer on our very sandy, drought-prone soils as for every 0.1 per cent extra organic matter, we gain 16,000 litres of water-holding capacity per hectare.

Seed dressings
We no longer use growth regulators, we only use one fungicide on the wheat and we do not use seed dressings or insecticides. We use no bagged phosphate, potash or lime and have reduced our nitrogen use by 80kg/ha.
Mr Kavanagh is one of six farmers who set up the Green Farm Collective, a network of British farmers who are creating and managing nature and carbon-enhancing projects on their farms.

We recognise that by building natural capital on our farms we could provide a major income stream. A key part of this has been the process of quantifying everything and to do this we use Trinity Agtechs Sandy software.
Our Muddy Boots farm software links automatically to Sandy so all the field records relating to inputs, operations, stocking rates and soil analysis are transferred via the cloud.

Sandy then translates all the data to work out our carbon footprint and biodiversity score. It provides a breakdown of where the emissions are coming from, so we can focus on priority actions to reduce our carbon footprint.
Sandy also allows us to scenario plan, meaning we can experiment with what if we do this or that to help us plan ahead.

Membership
We want to grow membership of the Green Farm Collective to enhance knowledge transfer in the regenerative agriculture world, as well as provide a robust natural capital trading platform.
---
Farm facts
Church Farm extends to 688 hectares (1,700 acres) of which about 243ha (600 acres) is owned and the rest rented or contract farmed
About 546ha (1,350 acres) is arable, of which one-third is spring cropped. The remaining 142ha (350 acres) is permanent grassland and woodland
Thompson Farms also has a flock of 700 pure-bred Lleyn ewes which are generally crossed to an Abermax ram, except for those used to breed replacements. They are entirely fed on forage and no concentrates are fed. About 90 per cent of the lamb is sold direct via a local farm shop
---
HUGH CARTER, EAST HOUSE FARM, SEDGEFIELD, CO DURHAM
Managing 71,000 free-range hens and around 405 hectares (1,000 acres) of arable means Hugh Carter has a busy life, but this has not stopped him from experimenting with a range of measures to reduce the carbon footprint of his farm.

Initially, it was a drive to reduce the labour requirement and fixed costs on the arable land which prompted Mr Carter to look at minimum tillage.

He says: As we have reduced our cultivations, we have seen a steady increase in the soil organic matter to 5-8 per cent and I think we can increase this further.

We are usually combining wheat in September so it is too late to establish cover crops successfully.
We also tend to have dry springs so conditions are not suitable for spring cropping.

We have now moved entirely to winter cropping and our rotation consists of winter wheat, barley, oilseed rape, wheat and beans.
We are now experimenting with different legumes as companion crops but we are limited in what wecan grow because of our climate.

We are growing sainfoin with oilseed rape instead of berseem clover because it is more resilient to frost.
We want something which will keep growing and fixing nitrogen throughout the growing season and provide good rooting structure.
We would like to increase the crop diversity in the field to encourage a greater range of soil microbes and mycorrhizal associations and to reduce risk of failure.
This year we are trying winter beans with the sainfoin and cereals.

Focus

Mr Carter supplies his eggs to Morrisons and a year ago he embarked on a net zero journey to reduce the carbon footprint of his eggs.
The initial focus is feed and Mr Carter has a head start as he grows, mills and mixes most of the ingredients in his hen feed.

We started by moving a group of up-to-weight older hens to a non-soya diet and monitored their performance; we observed no ill effects.
Then we did a 16-week trial with the non-soya diet on younger pullets and, again, there were no problems.
We have measured the carbon footprint of our eggs compared to a standard farm.
Our eggs were initially at the 2.38kg of CO2e per kilo of eggs, which is similar to standard figures, but once we cut out the soya, the figure dropped to 1.51kg CO2e/kg.

Once we took into account the various regenerative measures we have adopted across the arable land, the figure fell further to 1.33kg/ CO2e/kg.
If we include planted trees in the range and mature woodland on the farm, this figure is 0.97kg/ CO2e/kg, Mr Carter says. We cannot expect one measure to make a difference, rather it is about a range of different interventions which will all make a contribution towards net zero.
It has to be a whole farm approach.
---
Farm facts
Easter House Farm extends to about 440 hectares (1,087 acres), made up predominantly of arable land, but also has 36ha (89 acres) of range for the 71,000 free-range hens
Employs one full-time employee on the arable land and five full-time and two part-time employees for the hens
Most of the arable land is managed in-hand but a combine is shared with a neighbouring farmer who does some of the combining at East House Farm
---