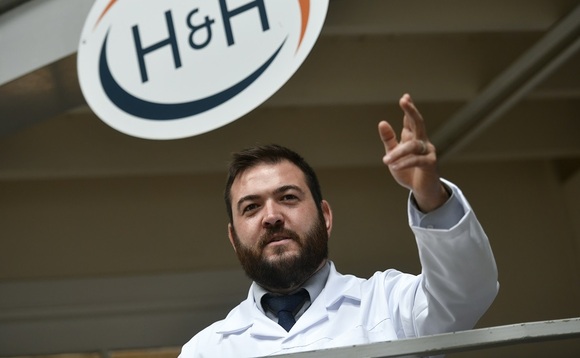 Adam Grieve on sale highlights.
With Covid-19 restrictions being lifted just in time for the autumn breeding sales, I feel the only thing that can dampen spirits is the mixed weather we are dealing with at present.

Fortunately, the trading of livestock post-Brexit continues to be much better than expected, with both prime and store stock selling at buoyant levels.

Here in Scotland, it is only very recently that Covid-19 restrictions have been totally lifted.

So it is such a pleasure for the farmers, who work tirelessly to produce their livestock, to be able to come in person to see them being sold.

As we move away from lockdowns, we are still seeing the few positives that came from the pandemic.

In particular, around here in the Scottish Borders, we saw a resurgence of people supporting local businesses and buying local products.

This increased demand has helped our trade for prime cattle and sheep at St Boswells, as we have been supplying many butchers and wholesalers throughout the Borders and beyond.

Prime sheep in particular have seen a phenomenal trade this season, with many lambs achieving between 20-30p per kilo more than last year.

At our most recent sale, we had 1,890 lambs and 831 cast sheep go under the hammer.

Prime lambs saw a rise of 11p on the week, averaging 43.8kg, 242ppk and £106 per head.

Sale highlights from this week included outstanding heavy Texel lambs to £155.

With many outlets operating for smarter types, Beltex lambs also sold well and up to £128 per head.

Heavy and well fleshed lambs are proving to be in considerable demand, with quality types continuing to top most market reports.

However leaner types remain harder to sell, due to dry weather earlier in the summer, which has left some lambs lacking finish.
The Borders is a renowned livestock producing area and it is such a pleasure to see the tremendous calibre of stock regularly coming through St Boswells mart.

Breeding sheep sales have already started with a bang with many early sales quoting significantly increased values, and averages up £20-£25.

This is something I believe will carry on during our autumn sales.

We hold our main sales at the start of September here at St Boswells. These offer some of the highest quality gimmers and ewe lambs, including Scotch Mules, Scotch Half Breds, Suffolk and Continental crosses.

Our spring cattle sales have been particularly good, with prices up around £100 a head on last year.

What is encouraging is that we have seen 10 per cent more cattle both suckled calves and forward stores coming through the sales ring.

The way prime cattle is currently trading bodes well as we prepare for the autumn and back end sales.

Heifer

Another recent highlight was the sale of a single heifer which raised almost £3,000 for Borders General Hospital, thanks to a generous decision and donation made in April 2020, by local farmer Jock Grieve, who decided he was going to donate the proceeds of the sale of his Limousin cross heifer to the local hospital.

The heifer was bought by a north Northumberland farmer, who was so humbled by Jock's donation that when he subsequently returned to sell the same heifer in the prime cattle sale at St Boswells Mart last month, he also chose to send his proceeds to the hospital.

The now infamous "Charity Heifer"was purchased by Briggsy's Butchers, based in Jedburgh, who were keen to help maximise the sale of the heifer and support their local hospital.

As I write this, we are finalising the details for the Solantel Kelso ram sales on September 10.

This is a huge day for the sheep industry, the Scottish Borders and for everyone here at Harrison & Hetherington. This will be especially the case this year, as consigners will have the opportunity once again to
showcase their stock live in the ring, while purchasers will be given the opportunity to see in-person the rams on offer.

The importance of livestock markets is something which can never be doubted, not only for their transparent and competitive nature, but as essential venues for farmers to meet with their friends, colleagues and neighbours.

This is especially the case for those who work alone and need the positive and social atmosphere.

Across all our livestock centres marts our aim is to ensure that we continue to provide this environment for every customer, and I personally would like to thank them for their support.
Adam Grieve
Adam Grieve is auctioneer at Harrison & Hetherington's Newtown St Boswells Auction Mart. Call 07702 714 124 or email [email protected]