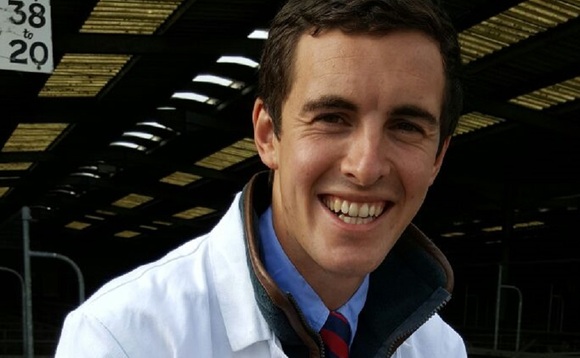 William Probert on Ross-on-Wye trade.
With lamb numbers continuing to come through thick and fast, trade has held its own, bringing massive returns to many producers.

Lamb trade at Ross-on-Wye on Monday, July 26, 2021, averaged £112 per head (264p/kg), topping at £148 which was £20/head (45p/kg) dearer than this time last year.
Furthermore, cull ewes have maintained a consistent premium trade throughout, peaking at points to unprecedented prices at festival timings.

These points considered, it has sent the breeding ewe trade off to an electric start, with prices as dear as we have ever seen them.
Confidence in the sheep industry is at an unbelievable high, despite previous predictions that Brexit and Covid-19 were set to destroy the red meat industry.
The sheep sector is now reaping great benefit from reduced imports, greater home trade demand and the ability to still export freely. Long may this continue.

The live beef market has seen an excellent level of demand, driven by the increased home trade and rise in
staycations as a result of Covid-19, with eating more home-produced beef.
This has sparked a fantastic trade on all classes of store cattle, with many buyers struggling to procure enough cattle to meet demand.

Covid-19 has brought many constraints and difficulties to our market at Ross, with vendors operating to a 'drop and go' system, being left unable to draw and present their stock for sale.
We also saw a change in buyer dynamics as a number of familiar ringside faces shielded and as such we now deal with a contingent of younger buyers.

The business has had to change to fit the requirements of the pandemic and introduced online sales, enabling vendors to see stock sold and with buyers able to bid from the comfort of their sofa.
Despite the challenges posed from Brexit and Covid-19, we have seen more confidence than ever at Rosson-Wye livestock market, with stock throughput up 33 per cent on the year.
We have seen many producers moving away from the deadweight system and returning to the market, due to the strong prices upheld in the live trade and difficulties valuing stock in the present market place.

That said, the market boasts weekly primestock sales on a Monday of 2,000 finished lambs, 500 cull ewes, 80 fat cattle and 30 cull cows.
Every other Thursday, a store cattle sale of up to 300-head takes place, joined by breeding ewes and store lambs, depending on the time of year.

This confidence shown in the live trade has allowed our firm, R.G. and R.B. Williams, to acquire the remaining shares of the out-of-town market site to become its sole owner.

Over the years, the firm has faced significant pressure from its former partners to close the market and redevelop the site.
Neither my partner, Richard Williams, his late father, Gwyn, or myself were in favour of this proposal and, after several months of negotiation, the remaining shares have been purchased, safeguarding its future.

Following the deal, Ross market now joins only a small number of family-owned and run markets in the United Kingdom.

The market boasts 31 unloading docks, including 12 for cattle and the remainder for sheep, the market is well equipped to handle large volumes of stock.

We are looking forward to developing the market further for the benefit of the vendor and buyers to ensure there will be a first-class livestock marketing facility at Ross-on-Wye for future generations.
William Probert
William Probert, is a chartered surveyor, agricultural valuer and auctioneer at R.G. and R.B. Williams Chartered Surveyors. Call 01989 567 233, or email [email protected]