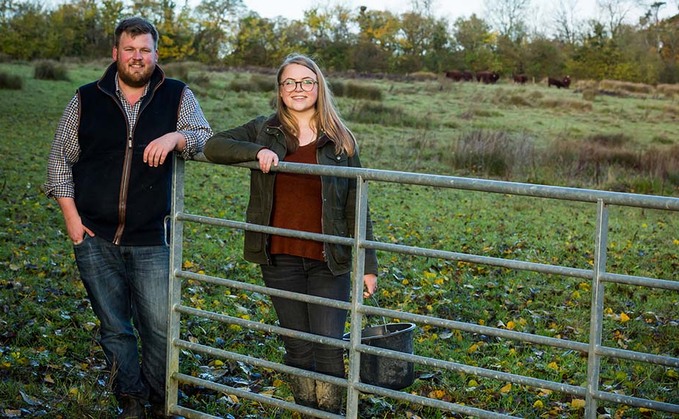 We are now well into winter and have settled into a nice routine, with Isobel and I taking turns on feeding and checking cows.
We had 150 extra ewes turn up on tack for winter, which has proved interesting as on the first day they took a detour into a rather wealthy individuals garden and then promptly got stuck in brambles on the footpath.
Needless to say, it was not quite the hassle we were looking for.
The new barn is arriving on January 4 and is a bit of a change for us. When we first viewed the farm four years ago there was one pole barn built in the 1980s and half a pole barn that burnt down in 2008.
This new barn will be made of steel, have 21 foot bays rather than 14ft feet and, amazingly, will have concrete panels around the outside. For the average owner-occupier, I am sure this sounds the norm but for young tenant farmers a fancy new shed is quite literally Christmas.
I rather embarrassingly managed to pop the tyre on the New Holland TH6 that the Princes Countryside Fund and New Holland gave us for the year.
It wasnt quite the bill I wanted in the middle of November but the local tyre guys were incredible and came out within hours of having the call, and I was able to carry on feeding and mucking out.
However, I am now a bit paranoid and make doubly sure to check my route before I drive.
At Horsham District Council I have been given the responsibility for championing environment and rural affairs.
There is an enormous amount of change happening, not only nationally with the loss of Basic Payments and our ever changing trading relationships, but also locally as we try to navigate challenges around the Covid-19 recovery and major housing developments.
The Wilder Horsham District is a project we have established where the council can provide advice and funding to unlock nature corridors, linking up our areas of high nature value using farm land without majorly impacting productivity.
Its an opportunity for us all to benefit, be that the residents, farmers and nature, and a model wed like to see more councils adopt.