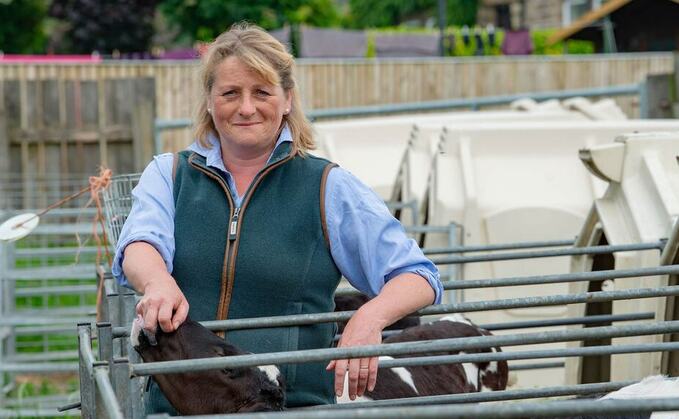 Rachel and husband Stephen and family farm 66ha (163 acres) mainly tenanted at Baildon, West Yorkshire. They milk 85 pedigree Holstein and Jerseys, selling milk to Meadow Foods. They also have an on farm vending machine. Their son, Ben, works full-time on farm and daughters Felicity and Zoe also work in the agricultural sector. Rachel is a director of the local farmers' market.
Unlike fellow In Your Field contributor Charles Bruce, my involvement with farmers' markets has increased in the last month.
I have stepped out from behind my stall to become the day manager of our local market. Nine years ago I was one of four local residents who started the market in a car park in the centre of the village.
We have been through good times and bad in those years, starting initially under the wing of the town council, but we are now a community interest company and the four of us are directors.
Of course 2020 was very challenging. During the first lockdown we closed as it seemed the right thing to do, but after seeing what a bonanza the supermarkets had, we vowed to stay open during the second. This was very much appreciated by traders and shoppers alike.
Having also stood on the market since the start, I totally agree with Charles' comments about the seeping cold, although I really don't mind the rain, so long as I have the right jacket on.
One good thing about becoming the day manager is I can walk about a lot more, so I'm hoping to deal with the cold better this winter.
Markets are very popular at the moment and Baildon was in the top 40 mentioned in a recent national newspaper article. I don't think it was a particularly scientific piece, but we were more than happy to take the accolade.
Two new markets in the surrounding area are being planned apparently, both within our target area, so I'll probably give them a go. Let's hope they don't get up and running until spring though.
It was a delight to attend the Yorkshire Women in Farming Autumn Gathering at the Great Yorkshire Showground last month. Yes, a proper event in person and it was brilliant, with with four presentations, all from a woman's perspective, with a chance to chat, network and lunch.
The only speaker who didn't quite chime with myself and other ladies on my table was talking about well-being, which we of course are all in favour of. But this speaker was advocating doing more exercise as the way to finding inner peace.
Now, I wear a step tracker every day and usually the recommended 10,000 steps have been racked up by lunchtime, so more activity isn't what we had in mind.
In an effort to relax a bit, I try to join in with The Fieldwork Book Club, organised by NFU North East regional director Adam Bedford and Ruth Wells. It's an online forum, which in this instance is more than acceptable as you get to chat to people from all over the country and globally.
Despite at first getting hung up on finishing the book, I've come to accept that it's just a really good opportunity to have a discussion with like-minded folk. Details can be found on Twitter @fieldwork_Books.