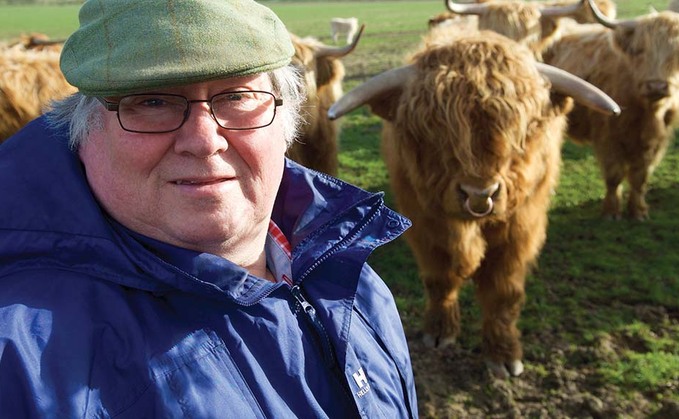 The first Saturday in October saw us attend our final farmers' market in Huntly.
It was a little bit of a sad morning as Christine and I have done mostly three markets per month for almost 20 years now.
We have been very fortunate to have many regulars whose support through the years has been much appreciated. I have no doubts we will miss the income but we will not miss rising in the dark cold mornings of the North East winter months.
The five hour stands in the cold played a major part in deciding it was time to call it a day. Christine used to wear two pairs of tights, trousers, a ski suit and thermal socks and still came home a number of Saturdays feeling very cold. The cold seemed to seep through you the longer you stood still behind a chill counter.
Our butchery goods will still be available on an order and pick up by arrangement basis and the odd delivery to some of our older customers who are no longer mobile.
With harvest finished and the barley all sold and delivered our estimates of yield have proven to be almost bang on at just over 2.5 tonnes per acre on the variety Sassy and just below 2.5 tonnes per acre with the Laureate.
Taking into account the fields in which they were sown the two varieties would have yielded almost identically with the Sassy producing an extra bale to the acre of straw.
The price of our group barley looks like it is to work out at £190/tonne with the fixed price and the spot parts of the contract being exactly the same. Will that be enough next year considering the price of fertiliser is rising so rapidly (nitrogen was being quoted at £560/t this week)?
The buying of our replacement rams and gimmers is completed and is regarded as the beginning to our sheep year, with tupping just around the corner the ewes and gimmers are looking in fit condition, not too lean and not too fat to try and give them the best chance of conceiving and having twin lambs.
A farmer who is renowned in our area as knowing 'a little bit about sheep' once told me his father's advice, and I quote: "You can never have to many rams. It doesn't matter how well they are looked after pre-lambing, there is bound to be one who goes lame as soon as he sees the ewes, another will be seen hobbling around the field having strained himself serving a ewe and another will be lying at the field gate with pneumonia, so always keep a few spares."