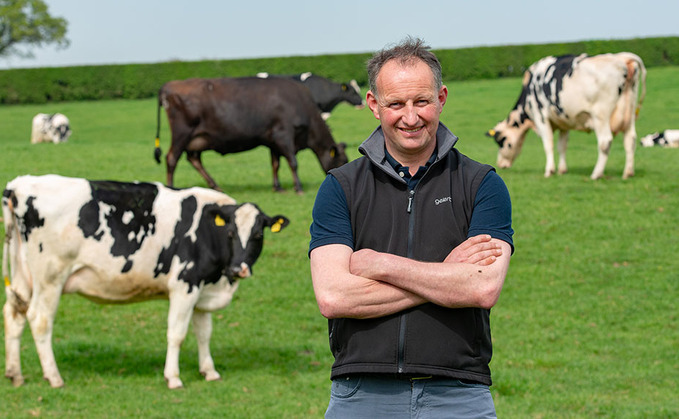 September rolls on with the local area mostly caught up now. Fields of grain, straw and silage have led to some very full barns locally.
The late season grazing has been cleared nicely with some really clean residuals, which I would like to hope sets up a fresh start for next year.
Most years we have had to keep youngstock out until the turkeys have vacated the sheds, but with investments in more housing, this should hopefully allow us to avoid that final grazing which is so prone to pasture damage (and 2am phone calls).
Calvings on-farm have been interesting this last month as the sexed semen calves have started to arrive. When planning how to use this product it was difficult to predict what a continuous flow of heifer calves would look like.
So, we took the view that the first two serves per cow would be a good place to start then wait and see. We may need to adjust as time goes by, or else we will be back where we started and not have enough housing for youngstock, particularly as we have a dairy bull with the heifers as a backup plan in case we were disappointed with the outcomes.
Data across the UK shows much confidence with sexed semen. It will be interesting to see if this filters through to dairy replacement prices in the future.
Processing dairy bulls appear to be in short supply, hardly surprising really. I ask myself the question had dairy bull calves not been priced so historically low then maybe the market would have survived?
It is interesting for me to see that science and innovation has answered the call. Are there perhaps other areas of food production that may necessitate science to effectively change the marketplace?
Let us hope the powers that be don't stand in the way of the science, thus helping us to compete on a level playing field with other parts of the world which have embraced it.
World fuel prices, in particular gas prices, have raised more than just an eyebrow in our family, notably the recent closure of the UK fertiliser plants. I can only suspect such action will encourage suppliers to lift prices to the marketplace.
Here on-farm, one of the team has made a dribble bar for a college project which is working even better than we had hoped. In previous years, a spare lagoon of slurry that we currently have might have posed some challenges. However, with the fertiliser factories closing this year it may prove to be move valuable than ever.
This, coupled with the new dribble bar as opposed to a splash-plate, may prove to be a useful addition to managing our grazing fields. As the saying goes, 'time will tell'.