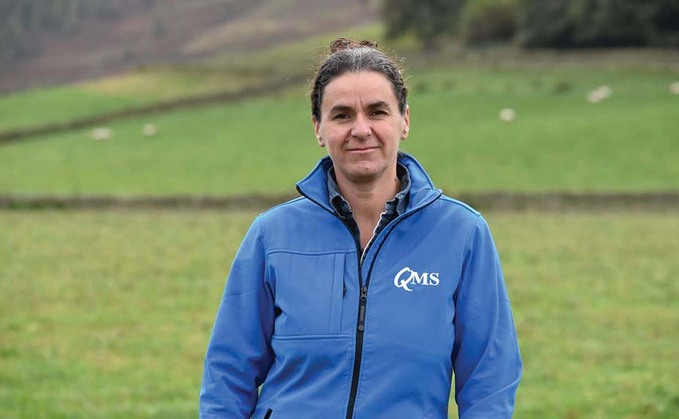 It is that time of year again when the weather person on TV talks about increasingly autumnal conditions and you know summer is nearly over. That said, it has been a lovely spell, allowing us to get second cut silage and arable silage cut and baled with little stress.
We winter our suckler cows outside, so every year we put them on a sacrificial field which is then sown with barley in spring, the grain being used for feeding calves in the shed the following winter.
This year, due to the extremely dry July here in the Scottish Borders, we are short of fodder, so decided to cut the barley and make arable silage instead. This will hopefully have the added benefit of less manual labour through winter - a particularly good thing this year as my husband had a fall last week and is currently nursing some broken ribs.
It has brought home to us how we are both getting that bit older, and has prompted other discussions about how to make life as easy as possible for ourselves. Things which did not faze us at all 10 years ago now seem that wee bit harder - a good example being wrestling with sheep to sort them out or treat them.
Having bought a Combi Clamp a few years ago, it now seems doubly hard if you ever have to catch and do anything with them in a field or pen.
Another thing which has recently saved a lot of physical work is my new collie pup Peg. She is eight months now and has taken to sheep work like the proverbial duck to water.
It is amazing how a good dog just knows instinctively what to do, and my biggest job at the moment is finding the time to get her out as often as possible. She will hopefully be a more than adequate replacement for the teenagers who head off to university in a week or so, and are usually the ones doing the sheep herding.
My work with Quality Meat Scotland is getting a bit busier as we head into autumn, with face to face meetings and conferences starting to get up and running again after the 18 months of virtual life we have all been leading.
We are also taking part in the Monitor Farm Legacy Project, which looks back at changes we made during our original stint as Monitor Farmers in 2012-2015, and the things we have done since then, with an on-farm meeting planned for later this month.
It will be great to see our friends and neighbours in the flesh and hopefully we will get a decent turn-out. The next couple of weeks will be spent tidying the farm up a bit as we have a visit from a selection of politicians and a Young Farmers barbecue to host this month too.
Maybe Ed chose the right time to put himself out of action after all; he doesn't like tidying up in the house much either.