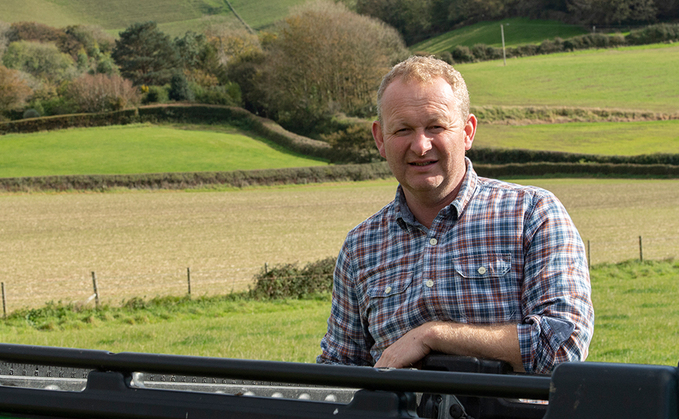 There is a distinctly autumnal feel in the air now. August has come and gone in a flash, and with September now upon us, the nights are well and truly drawing in.
As I write this though summer has made one last reappearance, with temperatures set to reach 2degC. As a bit of a sun worshipper and knowing that winter is not too far off, these last days of heat are very welcome indeed.
This month we welcomed Phil Allman, chair of the Hereford Cattle Society, to the farm in his capacity as judge for the South West Hereford Association herd competition.
Coming down from Herefordshire, Phil had already visited several herds from Cornwall to Wiltshire.
Unfortunately the weather that greeted Phil was not the summer evening on the south coast that would have shown our cattle off in their best light, but, nevertheless, we were delighted to find out a few weeks later that our herd had been awarded the overall runners-up spot from all three herd size categories judged.
One of our bull calves, Hilfield Volcano, was also awarded the top prize for best bull calf. Our herd is made up completely of all our own homebred cattle, so it is an achievement we are immensely proud of.
As all farmers know, when you work in an industry when, more often than not, things do not quite go according to plan (and Jeremy Clarkson will testify to this), it is reward gratefully received.
With the last silage cut of the season completed and cattle husbandry jobs up to speed, things have been a little quieter on the farm, so while Kate has been at home from her teaching job, we have tried our best to snatch the odd few hours away from the daily workload.
A holiday has not been possible again this year, but when you have the Jurassic Coast on your doorstep we are not exactly hard done by. Mindfulness seems to be a word used nowadays, and I have to admit that I am as guilty as anyone in not taking time away from either physically working or thinking about work.
Our walks along the South West Coast Path are a great form of relaxation, not to mention the stunning scenery that you see along the way.
After such a long period of time with very little social interaction, and with Covid restrictions now being relaxed, several agricultural and countryside shows have made a very welcome return in the last month.
One of our favourites is the 'Stock Gaylard Oak Fair'. Set on a private estate of the same name, in the heart of Dorset's Blackmore Vale, it is a show that takes you back in time, with no sign of technology and electronic gadgetry, but just a fascinating array of old woodworking skills and craftsmanship.
Watching a Fordson Major powering a four foot diameter circular saw is as equally cathartic, as it is slightly terrifying.