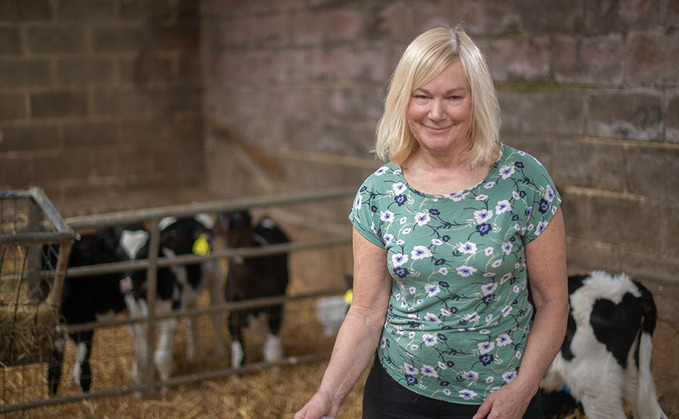 This year we have all become living history, an integral part of events which will be analysed for many years to come.
As individuals, we feel suspended and taken out of our comfort zones. Some people have had extra holiday time at home, able to relax on furlough, but unable to take actual holidays.
Farmers have felt grateful for the space around them and that they are able to work outside and not experience the additional stress of confinement.
In fact, it is such a busy time of year on-farm that, in many ways, little has changed. Feed still has to be delivered, crops planted, silage made and the vet and AI man still visit.
We all miss the social side, meeting up with friends in the pub, enjoying a meal out, watching our favourite sport. Finances are also being stretched, as prices go up for deliveries, but not for cattle or milk sales.
Here at Hill End, we have been mega busy. Our 140 cow cubicles are now extant, though we are still investigating mysterious water ingress on the right-hand side which has affected 20 cow places.
So far, we have dug a deep ditch in the concrete outside, though the piping is still coiled up as we are waiting to find where on earth the water is coming from before we lay the pipe and fill the trench in.
We have been lucky to have help from our local water authority, Wessex Water, with a manure pad and a trackway. We have been rushing on with these, as we are competing with the contractors' services and his desire to get started on his large annual hay crop.
So far, the manure pad has been excavated and the hardcore laid, but there may be a wait for the concrete as he has just cut his first 83 acres.
In the middle of this, my son-in-law reported that many of the wooden railway sleepers lining our silage clamp had deteriorated beyond repair, meaning the sides of the pit were no longer strong enough to bear the weight of the telehandlers rolling the clamp.
Repairs looked painfully expensive, as the price of railway sleepers has trebled since we built the clamp, but then my husband had a brainwave, namely taking out the back wall of the silage clamp, extending the silage clamp into the maize area and buying concrete panels to line the new sides.
We were able to silage 50 acres of leys on May 10 and, with two machines on the clamp, we got really good consolidation, as without an end wall, the two telehandlers could really go to town. At this stage, there was plenty of grass and yields were good.
Yields
We then silaged a further 70 acres on May 19, though yields were affected by the lack of rain. The silaging was made even more exciting by a cow getting stuck in the milking parlour, then a horse out in the field getting cast at the side of a straw bale which you would not have thought was possible.
We have also been converting our old carthorse stable and trap house into a holiday let. Talk about gluttons for punishment.
Finances are stretched by all this activity, though we do have a surfeit of heifers to sell and, thank goodness, we passed our annual TB test.
In this new era with the war on plastic, it has become rather obvious there is also a plastic problem on-farm, maybe even bigger than the supermarket plastic bag one, and trying to keep it under wraps is an uphill battle, with more and more being used each year.
Seeing small pieces of plastic from years ago flying round when the wind is up is disheartening. The new plan, now we have this extended silage pit, is to make more clamp silage and hay, and fewer round haylage bales, which should mean less plastic coming onto the farm.
In the midst of all the turmoil caused by Covid-19, there are trade negotiations going on behind the scenes. The Government appears to be sticking to world trade rules which do not include animal welfare. There is a cost to animal welfare.
Calf prices
We are one of the few countries which does not export live cattle. Our calf prices crashed when the veal trade to France and Holland was stopped. Irish calf prices are still good, as they continued with the trade.
Our government would like to make a trade agreement with Australia, which is the largest exporter of live farm animals in the world, with huge ships, many decks high, taking cull cattle and sheep for slaughter in the Middle East. Not at all welfare friendly.
Looking at the countries outside Europe which the Government is keen to do trade deals with, all have agricultural surpluses they want to get on our markets, and far fewer regulations. We need to get the public on our side. Write to the Daily Mail? It is the last chance saloon.
On a more positive note, I have recently had a big birthday, and the children organised a wonderful video with messages from all my friends and relations.
One message which struck home was from my best friend Bobby when she said how we both came into farming from outside backgrounds, and have since experienced many ups and downs together.
Would we do it again? Probably. But why have our husbands never listened to the good ideas which are helpfully offered over the breakfast table?