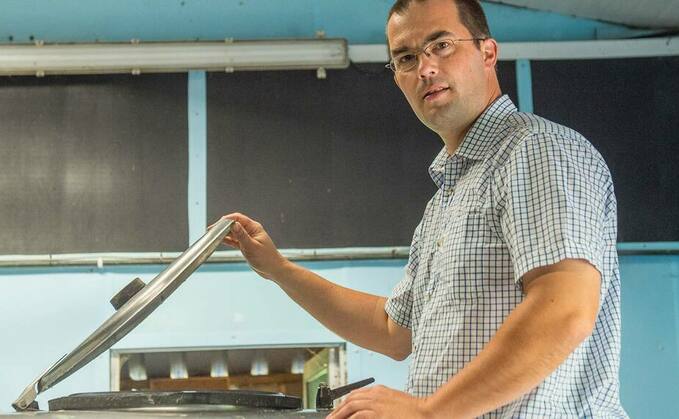 Just a few days ago 'Desert Dorset' was a dust bowl. The milking herd has been on a full silage diet as there was just no grass and no growth as it has hardly rained for more than a month.
Thankfully we had a heavy shower of 16mm of rain in 30 minutes last week after some unbearably hot days.

Milking was starting to get a fear factor about it as it was so uncomfortably hot. Within two days this has all changed and it's amazing how the countryside greens up so quickly.
The herd is still eating baled silage out in a field which we plan to reseed this autumn. The idea is we carry on doing this for a few weeks to give the grass a chance to bounce back, so we have grazing into autumn.
The forage rape we drilled on July 6 has barely germinated and was looking like a failed crop, but thankfully it does look to have germinated over the last few days. This will sadly be grazed later than expected and is likely to force us to do a spring grass reseed after it, rather than an autumn one as planned.

The silage ground on our other land does looks to be starting to grow, so we should get a third cut of bales to replenish those we have had to feed this last few weeks.
Again, it did seem frustrating to see pictures of waterlogged fields and stranded combines in other parts of the country that had plenty of rain, yet a few counties across southern England were in drought. It was even more frustrating to see rain forecast on my weather apps, only to get none at all.
After having issues with TB in cattle this last year, it was great to have a clear herd test this last week. We are back to yearly testing, rather six monthly, and obviously every 60 days when we were shut.
This was a massive relief and it was a bit of an undertaking this time, with so many youngstock away on the new farm. The stress of being shut down with TB and how it forces your hand and wrecks your business can only ever be known by those it affects.

Some other good news was that after TB testing we also pregnancy tested our bulling heifers and we only had four not in calf out of 60 animals.

Like a few other farms, we have decided to dip our toes into opening a glamping site. We have spoken of doing this on a number of occasions but life and other factors had stopped us doing it.
Anyway, we have taken the plunge and converted an old dairy to a shower room and installed a couple of bell tents. We hope to expand this with shepherds' huts next year. As we live in such a beautiful area, close to the sea and very touristy, it makes sense.

Later this next week we have our farm assurance assessment, which will be done remotely by smartphone. I am quite intrigued to see how the process goes and hope my mobile signal holds out for the duration.