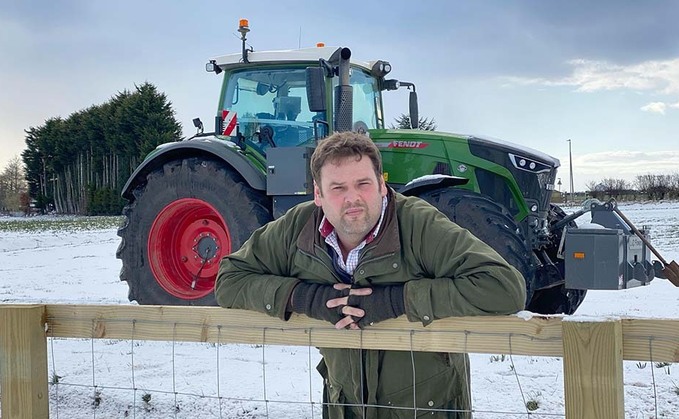 What a month February turned out to be. Mother nature put on quite the show, kicking off with rain, then the cold with extremely sharp and hard frosts, then came some snow and to finish we had a mix of strong winds and sunshine.
So far, the wind combined with warmer temperatures has been a blessing to get the fields dried up a little, however some of the more impressive lakes that have appeared need a little longer before we can think about starting our spring planting programme.
As I am sat here writing this masterpiece, we are attempting to lift the final (painful) 4 hectares of sugar beet and hoping to start drilling spring wheat behind the harvester.
I suspect that I am not the only person still awaiting delivery of their sugar beet seed as it seems our supplier cannot decide whether we can use neonicotinoids on the seed dressing or not.
I am currently in a three year contract with British Sugar and, unfortunately, I can see that once my current contract has been completed my Sugar Beet growing days will be over.
This year I have decided to enlist the help of a contractor to drill our beet as it is a struggle to fit in around planting and drilling the many other crops we grow.
With the low beet price and yellow virus making the crop very unattractive, British Sugar have me for another two years - possibly enough time to change for the better, but I will not hold my breath.
After the excitement of Valentine's Day, we are now preparing for the next big floral event in the calendar, Mother's Day. Inflated demand for potted flowers and cut hyacinth's are certainly keeping our team busy in the yard.
Gladioli bulbs, sunflower and aster seed have all arrived ready to kick off the spring flower drilling campaign ready for a hectic summer of harvesting and supplying the British supermarkets with quality British grown flowers.
February also played host to an especially important vote regarding the future of ADHB Horticulture. AHDB Potatoes will stand trial this month so I hope everyone involved takes the time to vote.
Like many, I pay a good levy to the board each year but I feel as though I receive little to no benefit in return.
The fruit sector, which benefits from the research undertaken, predominately voted to keep horticultural levy.
Maybe the solution is to create a separate AHDB Fruit and allow them to carry on independently.
Whatever happens I do hope the vote is accepted and this does not become something that drags on endlessly, like Brexit.
Looking at the weather reports, fingers crossed we will soon be full steam ahead planting and drilling.