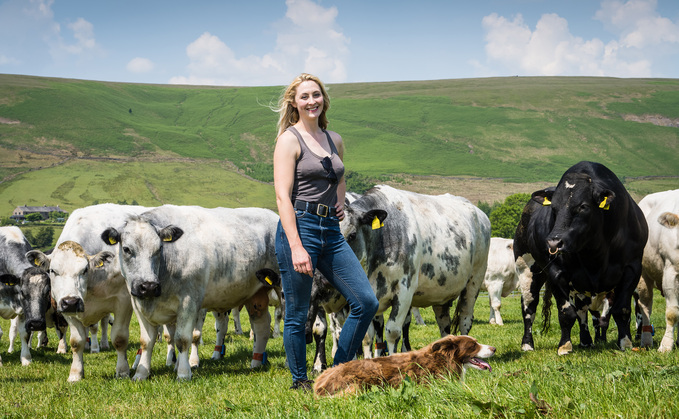 From the bright lights of London to the familiarity of Lancashire, Heather Whalley has discovered what she is truly passionate about. Emily Ashworth finds out more.
Heather Whalley may have travelled the world while pursuing her career in dance, but there is no denying that being out in the fields of Brunghill Moor Farm is where she belongs.
Set in the heart of Lancashire, near Bolton-by-Bowland on the outskirts of Clitheroe, the 48.6-hectare (120-acre) family farm has seen its fair share of change over the years.
Heather, 32, studied dance and performance before working as a dancer on cruise ships. Based mostly in London, she also danced in various shows and productions. However, thoughts about her future soon began to creep in.
"As time went on, it was becoming more difficult to get roles and I needed to think about the long-term," says Heather, who farms in partnership with her dad Gary.
"I decided to do a degree in zoology, because I thought I would not mind doing something to do with veterinary science - but zoology was broad enough to cover all sorts of topics.
"At some point, something was surely going to click - and in my third year, it did. I sat in conservational ecology and this particular class was about agricultural ecology - I was absolutely hooked.
"I went home and read about it and found regenerative and sustainable farming - soil management and nutrient management - and the more I delved, the more I found I was actually reading this stuff for fun.
"We have got some calcareous flushes at the bottom of our field which are pretty rare, and I used to take my book there and got quite good at identifying habitats and botanicals, so I thought: 'Right - I want to do something with this'."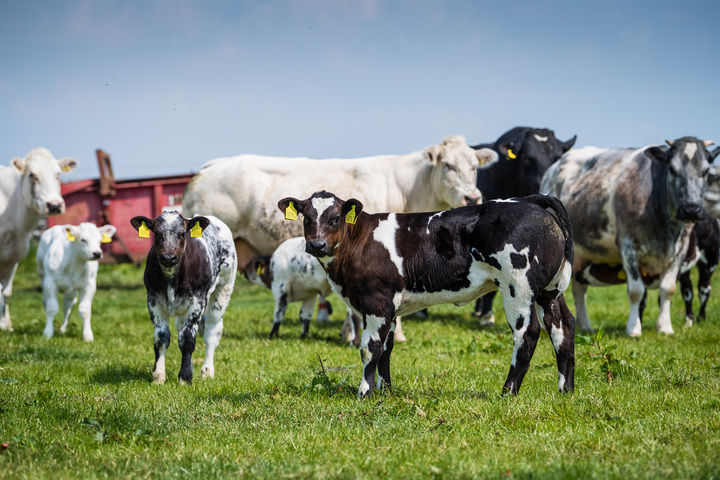 Realising she wanted to pursue something which combined agriculture with natural and environmental sciences, Heather secured a place on the ISARA Lyon scholarship programme. This would have led her to study in France, Norway and Germany.
However, a series of events occurred that instead led her back home to take on the farm with her dad.
"I was super excited," she says.
"But then my mum left home, and my dad could not run the farm on his own.
"I thought: 'there is no better life experience'. I could go and sit in a classroom and learn, or go home and learn on the job."
From that point, Heather has come into her own, and the relationship she has with her dad is one of respect and balance - they are, she notes, always on the same page.
Running about 60 British Blues, the main business is selling stock - they are known for their pedigree cattle, and have worked hard to streamline their herd with a huge focus on genetics and producing easy calvers.
Heather says: "We had a rejiggle and focused on efficiency.
"We upgraded nearly all of the machines and I used my savings to buy our bull.
"From that, our calves began to get better - I have started pelvic measuring and we invested in heat and calf detection monitors.
"They are predominantly used in dairy farms, but they have been a second pair of eyes when I am not here.
"I am also trained in artificial insemination, which allows for more genetic diversity."
From the cattle that come in, anything that does not make the mark - if it is walking badly or has a difficult temperament - goes in the fat ring. They do not, says Heather, want to breed from them. Everything else is finished off to breeding age.
The stock come into the cubicle house once cows are weaned, and with heavy clay soil and over 1,500ml of rain per year, the animals come in as soon as it starts getting wet.
"People are obsessed with our breeding heifers - we have a list of people who ask me to let them know when we are selling.
"We sell most straight from the farm and sell throughout the UK.
"People are looking for easy calving bloodlines because they are becoming rarer."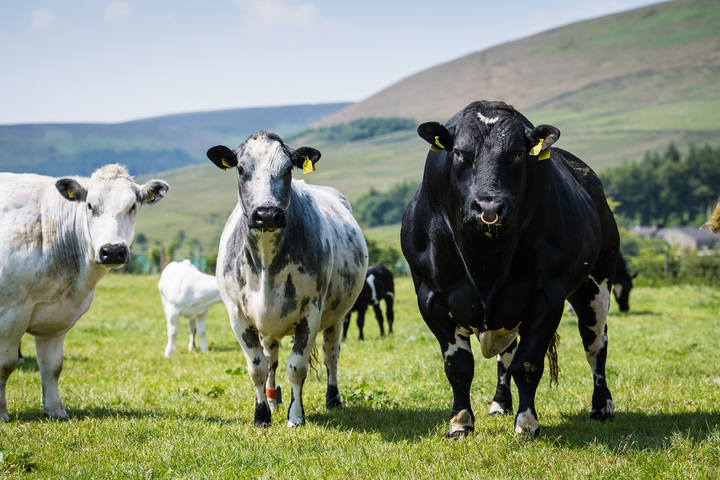 Gary is a first-generation farmer who started out dairying with his brother, and farming is all he has ever wanted to do.
After going into sucklers, he then bought his first British Blue pedigree cow, Cowden Mary, from Alan Barnes - Cowden Mary is 'the great-grandmother of everything on the farm' and they built their herd from her.
Now they have the breeding the way they want it, Heather has had time to focus on the land and her new passion: soil.
Additionally, as if she was not busy enough, she also works as a senior farm adviser for the Ribble Rivers Trust, helping other farmers with grant applications and advising them on how to take care of their land.
This work has helped her buy a share of the farm, while providing extra knowledge to bring back to Brunghill.
"With my job, I have a particular focus on soil health," she says.
"I bought a subsoiler, and then an overseeder through the Lancashire County Council carbon farming fund - you can cultivate a field in single passing.
"We are also in the Sustainable Farming Incentive (SFI) for soil standard. We naturally have herbs and wildflowers, so it made sense. But, we are experimenting with putting more in to benefit soil health, and to also get more natural trace elements into the feed.
"You need a lot of protein raising British Blues, so if we can decrease bought-in feed by improving our own forage, then that is the way we want to do it."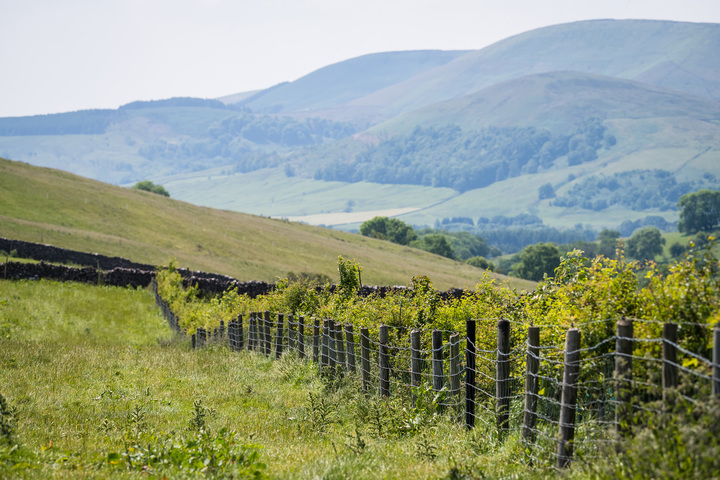 Through the Farming in Protected Landscapes (FiPL) programme, they have restored boundaries with dry stone walls and planted hedgerows.
Heather is also keen on soil testing.
She says: "I do carbon soil testing, because what is the harm in seeing what is happening and looking at how much we are potentially sequestering?
"Anything you can get that will give you a picture of what is happening beneath the soil is beneficial.
"I do dig profile pits once a year in every field, just to see what is going on."
Succession is a prominent topic of conversation in Heather and Gary's household, and the subject is not glossed over.
As Gary says, a lot of change has happened in a short space of time, and Heather is moving and riding that wave. For him, he knows the farm is in good hands once it is passed on.
"I have worked all my life for this - it is the only thing I have ever been interested in," says Gary.
"If I do not pass it on, what has my life been about?
"It is sad for a lot of farmers who sit there and think, 'this is it'."
The farm has not, says Heather, simply fallen into her lap. She has certainly earned her place - alongside the farm and her job as an adviser, she also has a poultry business, Hens on the Hill, in a neighbouring town with her partner James.
Finding herself back in the rhythm of a farming lifestyle has continued to feed her passion for the science behind it all.
"Agriculture is science, no matter what anyone says. It is science and a lot of hard work," says Heather.
"You are not sat in a laboratory or in an office - you go out to your field, you put your seed in and see if it grows. If it does not, then why not?
"You might have a calf that has come out plain - why has that happened?
"There is something so wholesome in agriculture in that you get to see the results - if I plant a tree or a hedgerow, I will see it grow."
A determination to see the farm flourish and become as efficient as possible is certainly a key motivation for Heather, and she is not one to stand still. But the cattle are the centre of it all.
"We always have three stock bulls on the farm and pick and choose some to AI - it depends on whether I want to breed something new and try something different.
"It is always good to try new things."
Farm facts
Farm runs around 60 British Blues and extends to 48.6 hectares (120 acres)
Cattle are mostly sold straight from the farm, and the breeding programme has been streamlined to produce easy calving cattle
Focus on soil health and increasing species diversity
Being part of the SFI, alongside grants through FiPL, has allowed them to create boundaries with hedgerows and dry stone wall