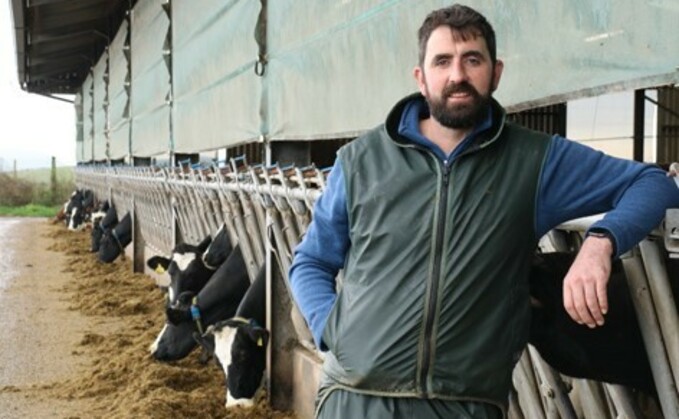 For recent dairy entrant Jim Fingland, using a heat detection system to improve the efficiency with which he manages his herd's fertility has proven key to the expansion of his one-man operation.
Jim Fingland runs his pedigree herd from Tarbreoch Dairy near Castle Douglas. The greenfield dairy unit, which currently comprises cubicle accommodation for 120 cows plus calving pens, calf housing and a 10:20 swing-over parlour, was built in 2013 when the family farm was divided into two to enable Jim to forge a new career in milk production.
"The dairy unit is still a work in progress," Jim explains, "with a new shed for an additional 100 cubicles and two silage clamps currently under construction. At the moment I'm milking 120 cows, but my aim is to expand to 180 by early 2021. At the same time, my main focus is to ensure the herd is managed as efficiently as possible so that I can keep costs down."
In terms of managing the herd's fertility and breeding efficiency, this means focusing on two key areas: using sexed semen to increase the number of heifer calves available to the herd (and to eliminate dairy bull calf euthanasia) and maximising conception rates by ensuring cows are inseminated at the optimal time.
"My aim from the outset was to use sexed semen to enable the herd to expand as quickly as possible, and to only use beef semen on the herd's less fertile animals," Jim describes. "I'm not one for investing in equipment unless I absolutely have to, but there's one piece of technology - my heat detection system - which I simply couldn't live without."
The SenseHub system uses Allflex's collar-mounted sensors to monitor subtle behavioural patterns which are indicative of heat events, signs of stress and the early onset of potential health issues.
"I'm calving all year round to produce a level milk profile, so it's important that I can get cows back into calf quickly to avoid any peaks or troughs in production," Jim continues. "Walking and chalking cows is fine, but as a one-man operation with a new cubicle shed to build and youngstock to attend to away from the dairy unit, time is at a premium. I therefore needed a system which would enable me to detect heats accurately and to manage more cows with my current number of labour units."
The SenseHub system was installed in October 2019 and, over the ensuing 12 months, has become one of Jim's most valuable investments.
"Since the collars were fitted a year ago, my phone has become one of my most important tools," Jim describes. "I live away from the dairy unit which means I'm not always on site to spot heats. Instead, I have a quick look at the SenseHub app each morning to find out which cows are in heat and when they should be inseminated and organise the rest of my day around my AI duties. It's a really simple way of making sure my day runs smoothly, which in turn keeps my stress levels under control and gives me more time to focus on other tasks. It's like having an extra set of eyes and ears, and if a cow starts calving or is showing signs of stress or ill health, my phone will alert me so that I can take prompt action."
Knowing the precise time when each individual cow should be inseminated has contributed to the herd's impressive first service to conception rate: "With almost 50% of cows holding to their first service, Jim is currently averaging 2.1 inseminations per confirmed pregnancy," explains Iain Brown of Allflex. "That's a very healthy position to be in, especially as the industry's average conception rate from sexed semen is closer to 35-40%."
In addition to accurate AI timing, the ongoing focus at Tarbreoch is to reduce the herd's calving to conception interval which is currently averaging 118 days compared to a target of 60-100 days. "At present I'm running the herd as a single group with high and low yielders all managed in the same way," Jim continues. "That means a percentage of high yielders are going out to grass when they should ideally be housed so that I can keep a closer eye on their nutritional intake. As a result, the postpartum anoestrous period for some of the cows is longer than it should be resulting in extra days open. As soon as the new cubicle shed is up, I'll be able to split the herd into distinct high and low yielding groups and manage their diets accordingly which should reduce the calving to first service interval for the higher yielders."
Going forwards, Jim also intends to use the SenseHub system to enhance heifer fertility. "I'm currently using a stock bull on the herd's heifers and would ideally like to have five or six heifers calving each month. Unfortunately, the number of calvings is fluctuating from one month to the next so there's some room for improvement. If I can secure grant funding I'll put collars on the herd's heifers to enable me to identify heats more accurately and to give me the option to use AI if I need to."
Jim Fingland's goal is to expand his dairy herd from 120 cows to 180 without requiring any additional labour.
Cows are fitted with a collar-mounted sensor which monitors heat and health indicators.
Iain Brown of Allflex (right) discusses the herd's latest health and fertility data with Jim Fingland at his Tarbreoch Dairy unit.
The greenfield dairy was built in 2013 and is being expanded to provide additional cubicle housing for an extra 100 cows.