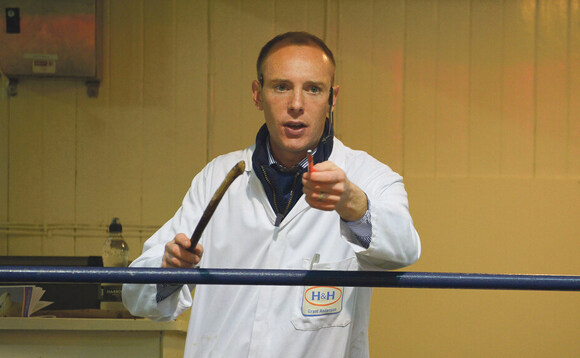 Grant Anderson on buoyant mart prices.
As I am writing this on a mild November day, I know farmers will be going about their daily routines perhaps with not too many changes to last year.
However, like me they will all be aware of the challenges ahead, both due to Covid-19 and the UK's imminent departure from the EU. In trading livestock, it has been different this year.
I would like to thank vendors and purchasers for their support in adhering to the legislative requirements across all of our centres. I would also like to thank the hundreds of people who have grasped the 'livestock trading digital revolution', both those selling their livestock virtually and those who have purchased.
In the sheep sector, it is not often that both the breeding females and rams are good to sell at the same time, but this year has proved an exception.
The breeding ewe sales saw prices constantly soaring through the roof. At the ram sales it was quality that counted, with good prices achieved.
Prime cattle trade has remained firm, and with a shortage of numbers coming forward in recent weeks, cattle have been sold earlier, which has resulted in us seeing a buoyant trade so far this month. Average prices are already up £120 on the year.
I would expect this to continue for farmers during the next few weeks as we head toward the end of the year.
Prime bulls have also seen similar trade all back end, but numbers are looking tight as we approach late November and into December. This should result in trade remaining high with plenty of demand.
Throughout the year, cast cows have achieved satisfying results and it is only in recent weeks, as abattoirs are focusing on prime beef sales in the run-up to Christmas, that prices have slipped. We anticipate this will be shortlived and expect to see an uplift in trade in the next month.
Numbers and trade for store cattle have been good throughout and suckled calf sales have been exceptional. Averages for suckled calves are well in excess of £150 per head up year on year.
Vendors are leaving delighted and as it now looks as if numbers will be tight until the new year, we expect this to continue in the short-term.
Brexit is looming ever closer and we still have concerns for both the beef and lamb sectors for 2021.
Fortunately, throughout Covid-19 more people have reverted to buying locally produced goods and have gone back to cooking healthy, substantial meals instead of a ready meal.
I hope the mindset of the people of the UK has been changed for good and that quality British Food continues to come to the fore.
Finally, we are staging our first webinar on December 1 with a focus on farming into the future.
As part of this online forum Scott Donaldson will discuss livestock trading post Brexit and Phil Stocker, CEO of the National Sheep Association, will give an overview of the sheep industry. If you would like to take part please email [email protected]
Grant Anderson
Grant Anderson is an auctioneer at auctioneer Harrison & Hetherington. Call 07872 129 274 or email [email protected]