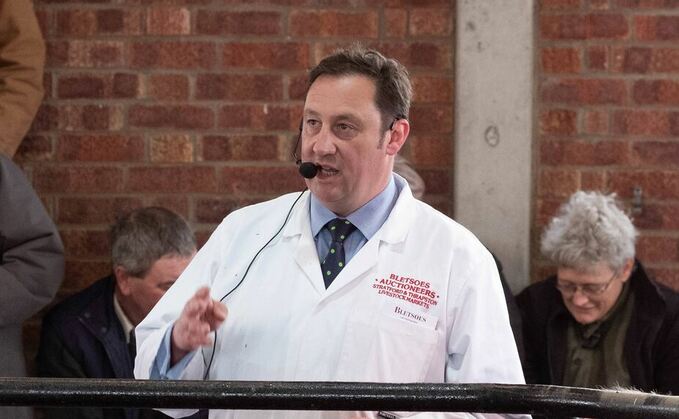 Alastair Brown on the year's trade.
Another year is nearly over, it seems to have quickly moved from breeding sheep sales to suckled calf sales then, suddenly, we have the Christmas fatstock shows upon us already.

When the weather is with us and trade is too, things seem slightly easier for everyone, but it is not as easy as that - everything else seems to have taken an increase in value also, so profits may not be as good they look. But there is still a large amount of confidence in every livestock sector, as many prices are higher than we have seen before.
There are lots of questions in these changing times, can the start of 2022 be similar to 2021 or better?
We saw an early lift in sheep prices last year, but can this lift in price be sustained with the consumer's pocket getting smaller, the high cost of living and European holidays increasing instead of staycations, all coming out of their monthly budgets. We will have to wait and see.

It is a good but challenging time for auctioneers at the moment, with weekly price changes and the seasonal patterns completely different from what we saw decade or less ago. Many clients ask for predictions and forecasts as if we have a crystal ball, I wish we had. Putting all your eggs in one basket these days could be a risk - it is certainly more of a gamble than what we are used too.
This year, as lambs are processed and exported to different places or traded to different markets, the quality of finish has been very important - rather than leaner lambs required over the past few years. A different market has been found, so we have to adapt.
Store cattle prices have remained extremely good. Just this week, many buyers are quoting prices similar to February and March prices, especially for the younger smaller types that have a costly winter indoors to contend with before turnout next spring.
As cattle numbers go short, the battle is on to be the owner for next year's beef producers. Numbers will be short as the bovine TB situation does not seem to be getting any better, though the promise in three years' time of a vaccination may be too late.

With such high demand, selling live has always been a better way of marketing your stock. Many animals still do not fit the deadweight grid and are heavily penalised - if they were to return to the live ring, buyers may buy what they require.

Looking to the future and young farmers are the key. It is hard to become a landowner, but encouraging young farmers is a key to many farms' futures. Watching various television programmes, it has been seen that more workers could be drawn to the country life from the cities with help from farmers.

All auctioneers are here to help farmers gain the best price for their stock and with strong competition and transparency around the ring, there could not be a better place market your hard work.
Alastair Brown
Alastair Brown is a senior auctioneer at Bletsoes. Call 01832 736 753 or email [email protected]