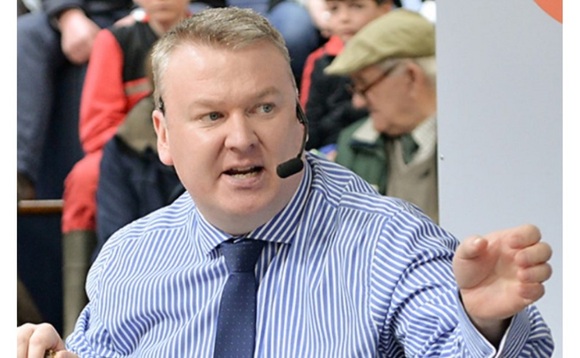 Glyn Lucas on factors affecting spending.
Our company and our dairy industry are all about the people we serve and interact with daily - and what an amazing business to be involved in.

I often think how fortunate we are to work in an industry that provides the world with such wholesome and nutritious food products.

Thank you to everyone who continues to give us the responsibility to promote and market your cattle. It's been a privilege selling these fantastic animals this summer.

The most used word on everyone lips no matter what industry you are involved in is 'costs'.

I had predicted back in January that there were a number of indicators suggesting costs were on the rise.

The three Fs - fuel, feed, and fertiliser - have all been on a rising trajectory since then and have affected dairy farmers' spending power.

Current dairy trade is best described as cautious, mainly down to the rising costs, and the UK farmgate milk price continues to remain behind the rest of the world market, highlighting a broken and dysfunctional milk marketing system.

We have had a fully loaded sales schedule this summer and autumn, with the very best animals in demand.

The value of pedigree and elite breeding lines continue to be sought after, with the strongest demand being seen in the type market.

The Berryholme Sale was the perfect example of a vibrant type market, with milking cows and heifers topping at 10,000gns to average £6,342 and yearling and heifer calves topping at 27,000gns to average £5,624.

The Warnelview Sale was similar, topping at 10,000gns with several selling for more than £8,000, as was the Sterndale Sale topping at 21,000gns.

All these high sellers have several common denominators. They were all bred from generations of high scoring, excellent cows, all with super high production, massive lifetime yields, and all had attractive sires in their pedigrees.

Go out and start your own special breeding programme today. It can be very rewarding.
Our Borderway Monthly Dairy Day sale regularly has more than 300 dairy cattle selling.

At the most recent sale on Octobe 6, we traded 351 animals with a Montbeliarde cross bred cow topping at £2,350. The 114 Holstein heifers averaged £1,704 in this sale, topping at £2,300.
In-calf heifers have been excellent value for money all year and remain so, averaging only £1,247 in October with a top of £1,750.

The monthly pedigree sale takes place on the third Wednesday each month and the quality which buyers have the opportunity to select from is amazing.

We are fortunate to be surrounded by many of the best dairy herds in the UK. This is reflected in our catalogues.

The herd health protocols our consignors are actively engaged in are exceptional and get published in each catalogue, meaning buyers can have total confidence.

The pedigree sale in September topped at 2,800gns to average £1,782, reflecting excellent value for money considering the quality on offer.

Comparing the values from earlier in the spring and summer we have noticed a drop of approximately 12 per cent across most of our dairy sales, when averages were constantly over £2,000.

Staff shortages have been making the headlines in recent weeks, with several industries feeling the effect, and the dairy industry is struggling.

However, we offer a full sales service to sellers and buyers, therefore we can be the extra member of staff you need, so please connect with us for more information.

Many buyers can't find the time to leave the farm, however we have an experienced professional team which can select animals to meet your personal criteria, and the H&H Online Bidding platform is available at all our dairy sales.

Whether you want 50 high yielding heifers or the next national champion, our team can assist you in the buying process.

Some special events will take place at Borderway before 2021 comes to an end.

Our famous Black & White Sale once again has a unique offering of the most current and sought-after genetics, and we will be announcing several large dispersal sales.

Please don't miss out on our most recent news. Checkout our adverts in the coming weeks or follow us on Facebook for full information on our winter events.

Thanks for milking.
Glyn Lucas
Glyn Lucas is the senior dairy auctioneer for Harrison & Hetherington. Call 07711 610255 or email [email protected]