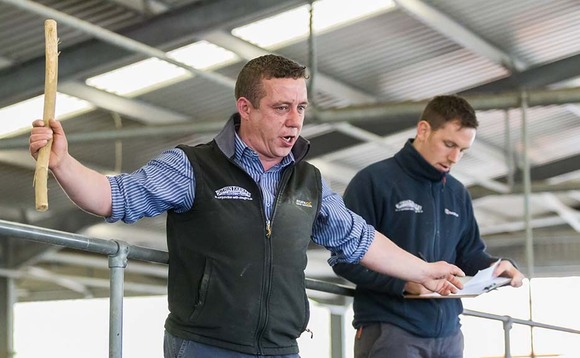 Market trade thriving, says Elfor Morris.
As some of you may know, 2020 was to be a big year for Ruthin Farmers Auction, as we celebrated 100 years and many plans were in place to celebrate this occasion, including prize draws, events and exhibitions.
Obviously, these have been put on hold for now due to current restrictions.
On that note, we appreciate the hard work livestock producers put in to achieving the best from their individual systems and to leave their produce at the market without being able to proudly stand with their livestock has not been easy.

The quality and quantity of livestock exhibited is a credit to you producers and it is what ensures our buyers continue to enquire about the stock from week to week. We would therefore like to thank all of our customers for their co-operation during this time and hope we can all stay safe.

Brexit cast a cloud of tariff threats and other associated worries upon the New Year but so far, 2021 trade has set off all guns blazing in all sectors here at the market.

Prime hogget trade over the previous weeks hit averages in excess of 290p/kg and beef and store cattle prices have started excellently.

In terms of stock numbers, our weekly store cattle sales are still boasting 250-350 head of store cattle per week with a variety of suckler-bred and dairy cross cattle from a large geographical catchment. Beef and cull cow numbers are increasing weekly, with retail and local butchers still meeting the deserved demand.
Hoggets

Sheep numbers are holding up well despite a surge at the back end of last year and we are regularly holding sales of 800 cull ewes and 2,500-3,000 prime lambs per week.

The confidence in the ewe and lamb couples and store hoggets keeps bringing strong weekly numbers. Long may it continue.

While missing the face-to-face contact with clients, we have become ever more reliant on technology to keep in touch with customers.

As such, we have been informing potential buyers of upcoming entries, notifying vendors of their prices and reporting to clients all by text message, with many saying they are grateful for this service.

We are about to conduct our third online implements sale through i-bidder, which has proved to be a great success. Having said this, nothing will ever beat the hustle and bustle of a yard or farm dispersal sale and let
us hope these sales can return to some normality in the very near future for all auctioneering firms.

As a company, may we take this opportunity to wish senior auctioneer Emyr Lloyd and sheep assessor John Dryhurst Roberts very healthy and enjoyable retirements, having served the company for nearly 50 years and
more than 40 years, respectively.
So, on behalf of us all here at Ruthin Farmers Auction, thank you again for your custom, continued support and co-operation.
Elfor Morris
Elfor Morris is an auctioneer and managing director of Ruthin Farmers Auction Mart. For more information, call
07867 977 705.