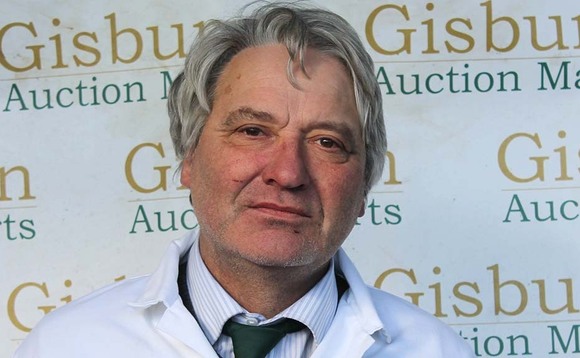 John Prickett thanks LAA and customers.
2020 was a year of growth for livestock markets across the UK, with Gisburn no exception and seeing growth in all sections of live and deadstock.
The hard work put in by the Livestock Auctioneers Association and market operators must be commended, to enable live marketing of stock to continue.

Prime hoggs are an incredible trade, with the prices being achieved more like April prices, and an average at Gisburn in the first week of February of £2.68 per kg.
Hoggs are easily 20-25p/kg dearer than last year. Export hoggs 38-42kg are in short supply as the number of hoggs sold before the end of December (when there were increased concerns regarding Brexit) is now having
an impact.
Hoggs overall look like staying a good trade and this will kick into the ewes with lambs at foot which are in enormous demand even with the weather as it is.

Confidence in the sheep sector is very buoyant as more hoggs came to the market last week, but the price at most centres continued to rise.
Store hogg and breeding sheep trade has been exceptional off the back of this throughout the back end of
2020 and continues into 2021.
Incredible results

Some quite incredible results have been seen in our fortnightly store/breeding sheep sales, with store hoggs topping at £112 and averaging £83 last Saturday.
There are concerns at the end of February/March there may be too many heavy hoggs off roots which will take some placing if, as it looks, there will be no catering trade.
The ewe trade, while not as buoyant as the hoggs, remains strong.
Gisburn had 602 ewes in to average £78.20 last weekend which was a nice trade for the number of horned ewes forward. It definitely is the case that larger and leaner the ewes are, the dearer they are.

Purchasers do not want over fat ewes, just like the hoggs.
At Gisburn our numbers continue to grow as the live marketing system comes to the fore. Both our prime beef and sheep rings operate with strong buying support, able to accommodate everything and anything with no deductions against a grid or arbitrary deductions as seen with the deadweight system.

Vendors who work during the week appreciate the service that is provided by the Gisburn team and livestock marts across the country to provide transparent marketing.
We would like to thank all customers for their continued support of the livestock market as the live system continues to prove superior to private and deadweight marketing alternatives.
John Prickett
John Prickett is auctioneer and valuer at Gisburn Auction Marts. Call 01200 445 376 / 07719 566 545 or email [email protected]