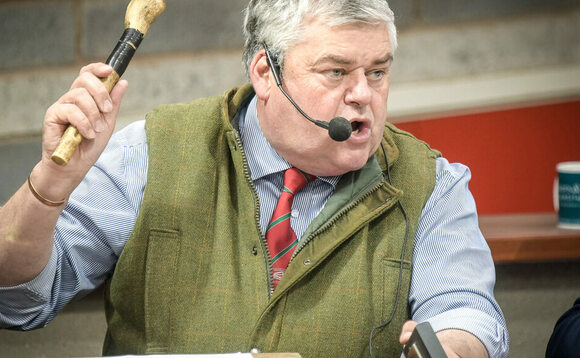 No tariff welcome says Richard Hyde.
What a relief - a Brexit deal with no tariff on sheep or cattle meat into Europe.

With Hereford, Builth Wells and Talgarth markets in the heart of sheep country, a 48 per cent tariff was a very daunting prospect.

Last Saturday (January 2) we ran Talgarth and Builth Markets instead of New Year's Day and, despite port chaos, the averages were 242p/kg and 234p/kg.

Both trades were excellent, but Builth has harder bred sheep.

Therefore, this is still the highest lamb/hoggett trade every seen at this time of the year and long may it continue.

The UK is the sheep provider for Europe and it would have been catastrophic for a 48 per cent tariff to have been imposed.

We have a thriving sheep sector putting money into a much deserving rural economy and it would have had massive long-term effects on the grassland areas of the UK had this export led sheep trade not continued.

The sheep industry is the backbone of the upland grass growing areas of the country from the Scilly Isles to the northern tip of Shetland and it was inconceivable that a 48 per cent tariff could come to pass.

The Dover chaos did little to dampen the lamb trade and we could be short of finished hoggs in the next two months as they, despite the fantastic trade, are not yet ready to be sold as finishers which traditionally aim to sell in March and April.

Farmers' sheep are dwindling as they get ready for the imminent arrival of the 2021 lamb crop and few want to be selling hoggs and lambing ewes at the same time.

I admit that I voted out, more of a protest vote than anything else, but I was shocked beyond belief to hear we were to leave.

My greatest concern was the EU running short of funds and the UK having to contribute more and more to balance the books.

With five countries contributing and 22 net receivers, this situation cannot be maintained.
My A-level history master told us 45 years ago that only three empires in history had not fallen - Russia, the EU and the United States.

Since then, Russia fell, the EU, in my opinion, is flapping in the breeze and the United States - well what can be said?

Tribulations

Since inception, the EU has 'supposedly' never balanced its budget, which would not normally be a sound financial principle.

Now four contributing and 22 deducting cannot surely continue and Germany will not be able to prop up the whole of the EU forever.

We know there will be trials and tribulations with increased paperwork, but as someone connected to the sheep industry I am glad that we are out, to avoid even greater budgetary inputs, and grateful beyond belief that a sheep and beef meat tariff has been avoided.

This year could be very unpleasant for many people for at least the next four months, but livestock farmers and auctioneers had a very protected existence in 2020 as the food chain had to be maintained to supply the public.

With every restaurant, cafe, bar, hotel and pub being closed throughout the whole of Europe for some periods of 2020, it has been incredible to me how well prices in the red meat sector have stayed buoyant and exceeded those of previous years.

The breeding ewe trade, store lambs and store cattle have been fantastic despite thoughts of a 'no-deal'.

On behalf of many of us, I would like to thank our Prime Minister and Ursula von der Leyen for delivering a much needed deal.

Even though the 'clever people' always said it would happen, it was close enough to the wire for my liking.
Richard Hyde
Richard Hyde is director of Hereford Market Auctioneers. Call 01432 761 882, or email [email protected]