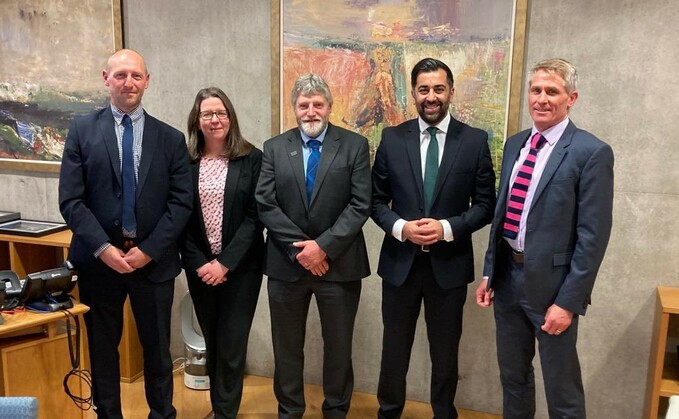 Scottish First Minister Humza Yousaf has held 'positive discussions' with NFU Scotland officials about the vital role of farming in supporting the nation's economy and supporting rural communities.
Mr Yousaf said he recognised the important responsibility farmers had in 'food production, improving biodiversity and tackling climate change' after holding a meeting with NFUS representatives on Tuesday (October 24) in Scottish Parliament.
NFUS president Martin Kennedy, chief executive John Davidson, director of policy Jonnie Hall and political affairs manager Beatrice Morrice were at the meeting where the First Minister also reaffirmed his support for farmers affected by flooding over the past few weeks.
Mr Kennedy said: "Excellent meeting with the First Minister highlighting the vital role the sector plays in our rural economy and also its importance in supporting rural communities and caring for our environment - including, if allowed, our ability to help with flood management."
Mr Davidson addedd: "Really positive and constructive meeting with First Minister Humza Yousaf - lots of issues covered and I came away enthused by the First Minister's recognition of the vital role our farmers and crofters play in our society and willingness to work together going forward."
After meeting with victims of floods in Brechin, Angus, on Monday (October 23), Mr Yousaf said it would be a 'long road to recovery' for farmers, businesses and families.
"I am afraid it is going to be a long journey to recovery given the devastation and the scale of the impact the community has faced," he added.
"It is my job to assure residents and business we are working hand in glove to help with the recovery phase."
See also: Defra Secretary Therese Coffey blames 'lack of experience' on easterly rain for response to Storm Babet