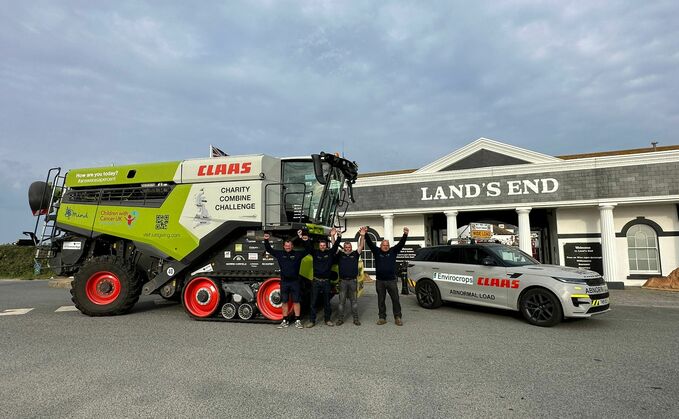 Merseyside arable farmer Olly Harrison set off from John o' Groats on June 4 and headed south, arriving at Land's End this morning (June 8).
Olly and his four friends, John Branson, James Baldini and Martin Williams, who have all suffered the loss of close friends through suicide, have received the backing of several celebrities along the way, including BBC Countryfile presenter Adam Henson and Clarkson's Farm star Kaleb Cooper.
View this post on Instagram
Despite the chosen combine being a Claas Lexion 8700, other machinery manufacturers including John Deere and Fendt have also shown their support to the charity trek.
Olly said: "It's been an incredible experience, the support from everyone, from members of the public and other road users has been phenomenal and thankfully we've had no issues with the traffic at all. We've covered about 200 miles a day and 875 miles in total. The hardest thing has been sleeping because of the road noise!"
View this post on Instagram
The team said chose the biggest machine possible to highlight the fact that mental health is a big issue for farmers throughout the country. The group has also said it was pleased to partner with Claas, which chose to support Children with Cancer UK - the company's charity of the year, for the event.
In order to minimise the team's environmental impact, the combine ran on Certas Energy HVO (hydrotreated vegetable oil) fossil-free fuel.
The combine will be heading to Devon and Cheshire Shows, before arriving at the Cereals Event at the Thoresby Estate early next week, where The Wurzels will perform next to it.
To donate, visit justgiving.com