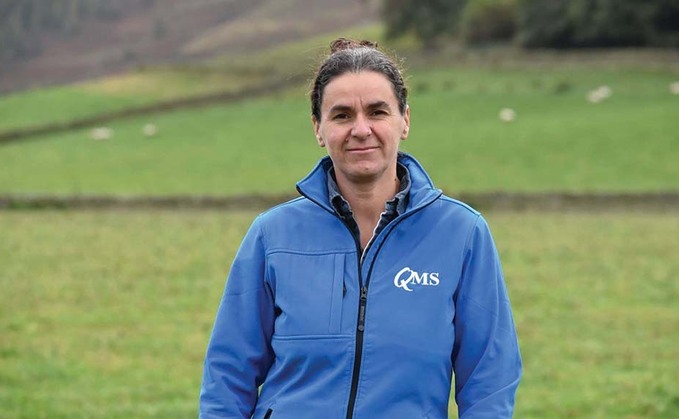 It is great to be writing my first column this week, with it just being International Women's Day and the global theme of Women in Leadership.
I am currently very privileged to be the chair of Quality Meat Scotland, where my leadership abilities are developing and improving all the time.
Every day is a school day though, and I hope I am still learning and absorbing new ideas for many years to come.
The day job is very much as a farmer, and at this time of year it feels like we're on the upward climb of a rollercoaster.
The long, slow build up in the weeks to the start of lambing and calving when we hit the top and plunge full tilt down the other side at a hundred miles an hour.
We have around 800 ewes and 90 suckler cows and a good scan this year means there should be plenty of lambs and calves hitting the ground from the end of the month.
One upside of school exams being cancelled is that I will have three extra helpers in the lambing shed this year, all keen to earn a bit of money.
It is often much easier to lead those you work with professionally than those you are related to, so it will be a good test of all the skills I have developed over the past couple of years.
Being patient, explaining things clearly and leaving them to get on with things themselves are all things I'll have to try to do to keep harmony in the family.
I am also a vet, and although no longer in practice, springtime still gives me lots of chances to exercise my brain cells and dexterity when tackling difficult births or unusual conditions.
Animal health and welfare is such an important part of our job as farmers and it's something which is always being improved as new prevention strategies and treatments are developed.
We have body condition scored the ewes twice already this year to adjust nutrition accordingly, and will check them again this week to try to pre-empt problems and keep them on the right track.
We have learnt the hard way that when it comes to poor condition and lack of colostrum, prevention is always better than cure.
International Women's Day has been in existence since 1910 and things have obviously changed a great deal since then, both in society as a whole and within the agricultural community.
Many women before me had no chance to develop and use their leadership skills, so I feel really lucky to be in the position I am in with QMS.
We are all well aware that women have played an enormous part in the farming sector throughout history, and so March 8 is a good day to celebrate their past hard work and achievements, while looking also forward to a future where everyone is encouraged to be a leader, no matter who they are.