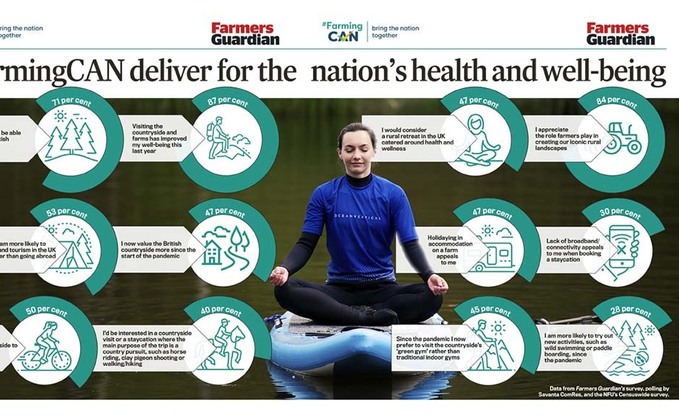 The pandemic has given people a greater appreciation of the landscapes farmers provide, with 71 per cent of people saying they feel fortunate to be able to access the British countryside a new survey has found.
More than 2,000 UK adults were interviewed by Savanta Comres on their post-pandemic habits, with more than half (53%) now more likely to seek out leisure and tourism in the UK countryside than travelling abroad.
With many turning to the countryside's 'green gym' when traditional gyms were closed during lockdown, younger adults (aged 18-34) are now more likely to continue exercising outdoors than returning to indoor facilities.
The survey was commissioned as part of Farmers Guardian's '#FarmingCAN' campaign which aims to showcase what farming delivers for the nation and how it can be a key block as the country rebuilds from the pandemic.
Backed by farmers, rural organisations, environmental and consumer groups as well as politicians, celebrities and social media influencers, '#FarmingCAN' shows what the UK agricultural sector is capable of when given the right tools and political frameworks.
Mental health
It comes as a separate survey by the National Farmers' Union (NFU) found visiting the British countryside has improved the physical and mental health of people living in towns and cities across Britain over the past year.
87 per cent of respondents who visit the British countryside said visits to Britain's farmed landscape had improved their wellbeing and nearly half (47 per cent) said they valued the British countryside and farmland more since the pandemic began.
Of those, 84 per cent agree their visits had made them appreciate the role farmers play creating our iconic rural landscapes, the Censuswide survey found.
NFU deputy president Stuart Roberts said: "The results clearly show the public's huge appreciation of the benefits the British countryside offers to the nation, and that they recognise the valuable role farmers play in creating our iconic landscapes.
Vital role
"British farmers not only produce our food, but they play a vital role maintaining, protecting and enhancing the landscape that has helped all of our mental health.
"It is this patchwork of food and farming landscapes that farmers and their families work hard to maintain and care for that is providing the backdrop to these visits.
"I hope this increased appreciation leads to better long-term understanding of what the countryside delivers for the nation."
CLA president Mark Bridgeman said: "Members of the public have clearly discovered their passion for the countryside. That 84 per cent said their visits have made them appreciate the role farmers play in preserving our beautiful landscapes is testament to the hard work and commitment of land managers everywhere.
Respect, protect and enjoy
"But, moreover, it shows that farmers and the public can work together to respect, protect and enjoy the countryside.
"Our members work hard to provide access to the countryside so that people from all walks of life can enjoy the health and wellbeing benefits of a good long walk.
"The public can help us by ensuring they stick to the footpaths and follow the Countryside Code. In doing so, I am certain that the public's value and understanding of the countryside will be long-lasting."
Richard Bower runs a major diversification at Lower Drayton Farm, Staffordshire, comprising indoor playbarn, outdoor attractions including a maize maze, accommodation and a registered health and wellbeing centre which offers courses on mental health.
Mr Bower said: "The pandemic has put things into perspective for a lot of people and they seem more connected with the food we eat and the environment we live in.
"As farmers we provide a whole range of benefits, providing food and fuel and caring for the environment, so a visit to a farm can not only be exciting and fun, but also educational. What better place to learn more about food production and nature than on a farm!"