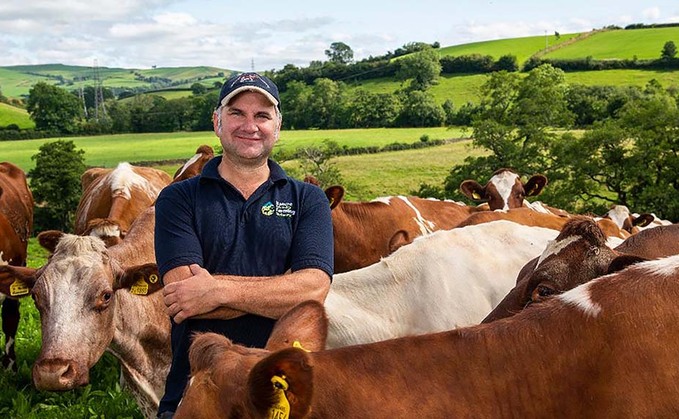 In our part of the world, the four seasons seem to have been replaced by something that is broadly described as weather and it can come in any form, at any stage of the year.
We managed to grab half of our second cut silage, albeit a fortnight later than normal. We were pleased with the crop that was on, and hopefully we can get the rest of it in the clamp before we lose a member of staff to the Kendal Calling Festival. It is only four days long, but the post-festival recovery period could be longer still.
Back in late June, as 2022 winners, we hosted the FWAG Silver Lapwing Award farm walk and presentation here at Strickley. The weather was really kind to us and it helped the farm show itself off to the 90 invited guests.
Butterflies, bees, dragonflies and damselflies were everywhere (as were the pesky clegs) and the birdlife was amazing, we even had a well-timed tawny owl fly-past in front of the whole group, it was so good it looked like we had planned it.
Head judge Martin Hole was a delight to listen to as he gave us a superbly lyrical tour of the 2023 finalists that they had visited, before announcing Iwan Davies, Hafod-y-Maidd, Denbighshire, as the deserving winner. My sincerest congratulations to them and all the other finalists of what is a great competition to be a part of.
I was also lucky enough to be a judge for the Yorkshire Agricultural Society's Tye Trophy this year. Along with John Fenton and Rachel Gibbons, we toured around the north of England and saw some amazing farming families doing great things for nature alongside thriving farming businesses.
The eventual winners, The Handley Family from Croasdale House Farm, near Slaidburn, were announced at this year's Great Yorkshire Show, we were absolutely blown away by the whole farm and everything they were doing, especially the work they were doing with the local secondary school running a BTEC (now City and Guilds) course for their pupils. I learned so much touring those farms over the three days, it was a real privilege. These competitions inspire both judges and competitors.
The number of people who are talking about regenerative farming, nature friendly farming, holistic approach, or whatever you want to label it as, is growing so fast that its hard to keep up with it all.
For instance, I attended the excellent Groundswell this year and it alone has grown from a couple of hundred people at its first event in 2016, to more than 7,000 this year and, while there were a lot of companies keen to be part of the movement and make a pound or two, the main thrust of the science and innovation in regenerative farming is coming from the ground up (excuse the pun).
'Big Ag' hasn't yet managed to find a way in that will make them the same money as they are on farming's current input-heavy food production system.
More of the money and control is kept in the local communities, and that's where we should focus. Forget about feeding the world, we should use our farms to produce for our local communities first, and that isn't just food, it is food and nature, clean water, air and healthy soils, access to farmland and habitat, social care, and education for all.