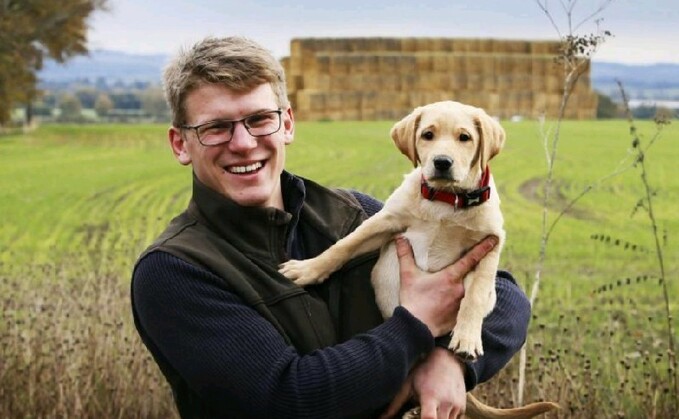 My interest in farming stems mainly from an academic standpoint — mainly in precision farming and science.
At the age of 17, I worked for two farming brothers in Cambridgeshire during the summer months to help with the harvest, which really opened my eyes to the industry.
My main duties included corn carting, cultivation and telehandler work.
In 2014, I studied agricultural business management at the University of Reading and came out with a first class distinction four years later.
The degree itself helped me learn about the management of agricultural businesses and how to become a successful manager in the sector.
I was able to develop critical observation and analysis skills in the farming industry through contact with real-life businesses as part of the course.
Once I finished my degree in 2018, I became an assistant farm manager in Oxfordshire on 1,400 hectares (3,459 acres) of land used for pedigree dairy herds and arable farming.
A main part of my role was to act as the link between the farm manager and the arable team.
Demonstrating organisational skills was really important in helping the farm run efficiently and allowed the farm manager more scope to make simple and logistical decisions.
Later that year, I was named as farm worker of the year by a panel at the British Farming Awards which was one of the proudest moments in my farming career.
I have now moved on to my partner's working farm in Cambridgeshire where we run a farm shop and cafe which I am really passionate about championing.
One of the biggest challenges the industry faces is growing a demand for British food.
In my opinion, Britain has the best farmers in the world, who produce some of the best food in the world.
There needs to be a revolution in the mind of the consumers about the quality of meat they are buying in supermarkets which generally tends to be cheaply sourced from overseas.
Buying from British farmers in shops like ours is rich in protein and nutrients which offers a better-quality product to the customer.
It may be slightly higher in price, but the money earned goes back to the community, rather than towards a chief executive's bonus.
I am also a treasurer of Newborough YFC which is a fantastic organisation to be part of.
Our main focus is on giving back to the community through fundraising.
In May, our 10th annual tractor run raised more than £3,000 for the East Anglia Air Ambulance which has helped many farmers over the years.
During those 10 years, we have raised around £20,000, which is incredible testament to all our members.
I think it is important to give back to people in need, which should be a motivation for any human being.