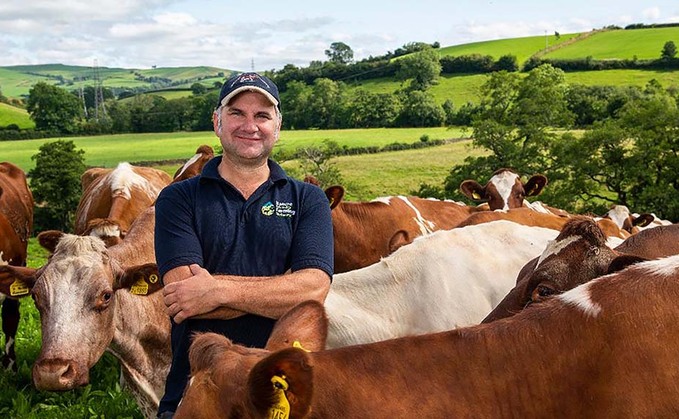 Hello everyone. I am not sure what to write for my initial In Your Field piece, but I suppose I should introduce myself first.
I am James Robinson and I farm alongside my parents, Kathleen and Henry and my son Robert, assisted by my wife Michelle and our younger son Chris.
Our farm is a couple of miles to the east of Kendal in south Cumbria. It is a challenging farm; very awkward actually.
It is steep in places and often wet, with bedrock showing on some pastures. It is an odd shape too, but I love farming here.
Every day things change, be that the hedges, walls, wetlands and all the wildlife which live here, in and around our poky little fields.
It is made up of three drumlins and, for those of you who are a similar age to me, you will remember that term from your GCSE geography days and probably not since.
Some people say it looks like Teletubbyland, while some people say it looks like The Shire from J.R.R. Tolkiens Lord of the Rings, but with fewer hairy feet.
I am the fifth generation of Robinsons to farm here. My great great grandad took on the tenancy here almost 150 years ago in 1875. The continuity and tie to the land is something which is hard to explain, but a sense of belonging and rich history is obvious in every corner of every field and building here.
The cows have grown up along with us too. There will have been Shorthorn cattle here from day one, but in 1915 my great great grandad registered his first animal in the Coates Herd Book.
The herd book is 200 years old this year, which makes it the oldest in the world, with more than half of those herd books containing Strickley cattle, and it is still a breed which serves us incredibly well.
We do not keep Dairy Shorthorns, they keep us.
Shorthorn
The Shorthorn World Conference is being held in the UK this year as a celebration of the 200 years and we are lucky enough to be welcoming the tour to Strickley on July 18. We will be showing the overseas delegates around our cows and the work we do to support nature here.
Maybe it is because our farm is an awkward layout or maybe because of those drumlins (that word again), but we have 95 per cent of the farms historic boundaries intact and in good health.
Removing those hedges and walls in the drive to become more efficient in the1970s and 1980s would not really have been much of an advantage if the bigger field was then too steep to work with a tractor or too wet to be grazed by the milk cows.
Whatever the reason, it has meant we have almost seven miles of hedgerows and four miles of drystone walls linking up some pretty diverse habitats.
Wetlands, wiggly becks, mosses, ancient woodlands and species rich hay meadows; they are all as important to our farm and how we manage it as the cows which graze the fields.
I am a bit of a nature farming nerd and I have put my money where my mouth is by stepping up to become the vice-chair of the Nature Friendly Farming Network (actually, there is no money involved).
I see the right type of farming as the solution to halting biodiversity loss and a way to produce nutrient dense food from a thriving rural community, alongside diverse habitats bursting with nature.
Biog: James Robinson
James farms Dairy Shorthorns east of Kendal, Cumbria, with his parents Kathleen and Henry, wife Michelle and and sons Robert and Chris.
The fifth generation to farm at Strickley, he is also vice-chair of the Nature Friendly Farming Network.