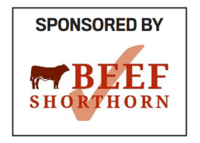 Stockjudging Competition
Having spent last year celebrating the bicentenary of Coates's Herd Book, the Beef Shorthorn Cattle Society's attention is now focused on what the future holds for the Beef Shorthorn. Part of its new long-term strategy and a legacy of the bicentenary celebrations is the establishment of a Youth Development Fund and, as part of that initiative, the society will be holding a special Youth Development Day, focusing on its younger members. The aim is to provide hands-on, educational workshops which are age-appropriate, looking at all elements of the breed. It is open to any young person, even if they are not currently a Beef Shorthorn Cattle Society member.
The event is being hosted by the Gibson family's White Rose herd at Appleton Mill Farm, Appleton Le Moors, North Yorkshire, on Sunday, September 10, 2023. Arrival is 10am for booking in, with the first module starting at 10.30am. A buffet lunch will be provided and all the activities are free, as the day is being funded by the Beef Short[1]horn Youth Development Fund. To book places, please visit Eventbrite and search for Beef Shorthorn Youth Development Day, or email Ellie at [email protected].
To be in with your chance of winning vouchers worth up to £100, test out your judging skills by entering our annual beef stockjudging competition.
Competition
As part of the launch of this initiative, the Beef Shorthorn Cattle Society is working with Farmers Guardian on this stockjudging competition for anybody who is 26 years old or younger. Winners will receive a voucher for £100 worth of Beef Shorthorn merchandise, with second prize being a £50 voucher. Good luck. Take part by pitting your judging skills against those of our professional judge. To be in with a chance of winning, you need to rank the four animals pictured (one being the animal you rate most highly), in the same order as our judge. Complete the form opposite and return it to: Beef Stockjudging Competition 2023, Farmers Guardian, Unit 4, Fulwood Business Park, Caxton Road, Fulwood, Preston, Lancashire, PR2 9NZ, by October 9, 2023.