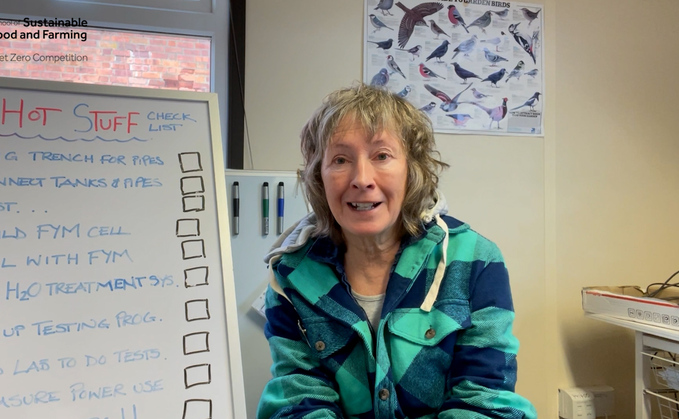 What the judges said
There is a massive potential to reduce carbon usage on dairy farms if we can share the knowledge.
J.R. & H.J. Jones & Sons farms 81ha (200 acres) of predominantly grassland on the flood plain of the Rivers Severn and Vyrnwy. Last year the business converted from a mixed farm to dairy.
Farmer and environmental consultant Mandy Stoker explains: We are embracing sustainable solutions installing new technology and working with nature. We invested in a new high-tech, energy efficient, herringbone parlour and bought 200 in-calf heifers last summer. We aim to milk up to 500 cattle within the next two years.

They sought funding to construct a system to heat warm water for feeding calves, and cleaning in the parlour (CIP), by using microbial activity through composting farmyard manure (FYM). This will lower the current energy requirements.

We will take used bedding from the cattle sheds, which comprises manure and chopped straw, and place into a purpose-built composting vessel. A series of water-filled hosepipe-based units will run through the compost. The energy and heat generated by the microbial community will warm the water. The water can then be drawn off twice a day during feeding times.

The energy required for heating water is significant but we believe we can put in a system that fits in with our whole farm business and contribute to the circular economy. The compost will be monitored and managed to ensure microbial efficiency.

While this idea is not new, it has not had the interest that it warrants possibly because other renewable technologies have taken precedent. However, for us - and possibly other livestock farmers - it will fit in with our other farming activities and should be relatively low cost, low maintenance and have low carbon footprint.

The funds will be used to fabricate the heat exchange system which needs to be robust, practical, adaptable and heat the volume of water required.
Below is Mandy's vlogs, you can follow Mandy's progress on this page and that of the other winners in the SSFF hub here
June 2023 Update
May 2023 Update
April 2023 Update
March 2023 Update
Introducing - Mandy Stoker