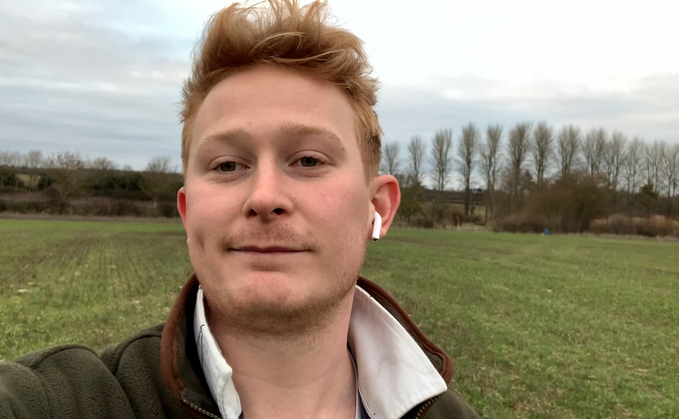 What the judges said
There is a massive potential to reduce carbon usage on dairy farms if we can share the knowledge.
About Bens project
Ben Adams runs a 380ha (940 acre) arable farm near Bicester, Oxfordshire, growing combinable crops and processing and delivering firewood over the winter.

The farm has been trialling intercropping and entered the competition to help further this work. Ben says his plan is to trial a range of different crop species together in the spring after a multispecies cover crop to find out what works financially and rotationally. He also plans to monitor issues which arise with pests, weeds and disease, assess how best to manage the different crops, and calculate minimal levels of inputs required.
Ben says he would also like to monitor levels of sequestered carbon and natural capital gain.

There are several combinations I would like to try, including: peas/barley, peas/osr, peas/barley/osr, beans/oats, beans/osr, oats/osr, beans/oats/osr.
Further mixes could include combinations of linseed, mustard, vetch and many more.

As there is no weighbridge on farm, Ben is considering the possibility of yield mapping on his combine to more accurately quantify the yields from different plots.

He explains: The main reason for applying for funding is due to the amount of trial work which will need to be done and considerable management time for all the different crops. Also, the work in separating these crops after harvest via a rotary cleaner.

The profitability of these crops also comes into play as over the last two years the pea/oat intercrop has averaged around 250/ha compared to monocrop spring oats which achieved 991/ha this year. This means in order to conduct these trials over a decent area (16.8ha/42 acres) it is likely to cost around 12,500 which is a serious impact to the business.

I am hoping that after the trials are all done it will be a lot clearer as to which combinations of crops will be financially viable.
Below is Ben's vlogs, you can follow Ben's progress on this page and that of the other winners in the SSFF hub here
Journey to Net Zero Competition Winner - Ben Adams
June 2023 Update
May 2023 Update
April 2023 Update
March 2023 Update
Introducing - Ben Adams