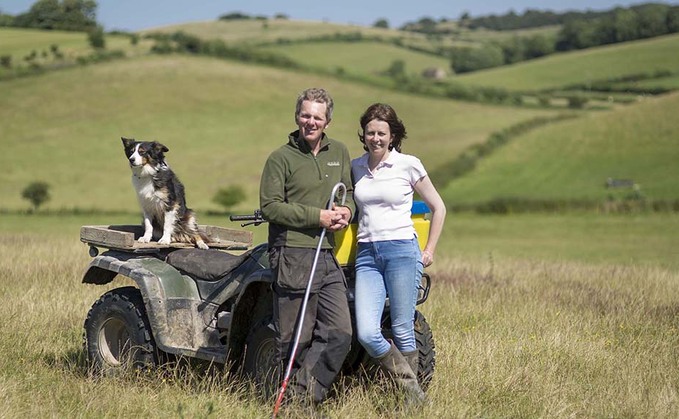 The idea that fresh air is good for you is nothing new, but evidence is mounting of a powerful link between spending time in nature and our mental health. At the National Trust's Saddlescombe Farm, in West Sussex, the connection is tangible.
The farm hosts eight-week programmes in partnership with local charity Grow to give support and respite to people of all ages who are dealing with depression, anxiety and stress. In some cases, the results are life-changing.
Supporting rural and city life
For over thousand years, Saddlescombe Farm has been a hub of rural life. Just five miles from Brighton, it is a hidden hamlet surrounded by ancient history and some of the country's best flora and fauna.
And for the past 10 years, it has become a source of respite for hundreds of people from the city.
Farmers Roly and Camilla Puzey, who have managed the land since 2014, play an active role in the Grow scheme; regularly taking groups to feed the pigs, herd sheep and ride on the trailer.
Many have never visited the countryside or been up close to an animal - and for Roly, watching people feel the fleece of a sheep for the first time, or letting a calf lick their hand, is particularly rewarding.
He said: "We are not mental health experts but what we do fascinates people. It puts smiles on people's faces and that's a great asset we have to offer."
Tasks on the farm help people build relationships and confidence. One popular activity involves moving a large flock of sheep from one field to the next, a job requiring good teamwork and communication.
Roly uses the opportunity to talk to people about the role of grazing animals, soil health and the food cycle, but admits it's the image of 600 sheep flooding through a farm gate that people don't ever forget.
A freeing environment
Central to the ethos of Grow is spending time outdoors. Jo Wren, director of Grow, said the farm environment is freeing - 'people are more relaxed, they sleep better, they are energised. It is more forgiving than being inside four walls. It teaches you that life goes in cycles, like nature'.
And the evidence is far from anecdotal. The University of Brighton spent three years collecting data* from people before and after taking part in Grow and found a significant increase in wellbeing following the eight-week programme.
87.5 per cent of participants reported a significant or great impact on their mental health, and 63.6 per cent saw benefits to their physical health. One participant said: "I have encountered no other mental health and wellbeing project in all these years that comes close to the positivity this project embodies."
Breaking down barriers
Everyone is welcome at Grow; ages range from 20 up to 80 and participants come from all backgrounds, including people living in isolation, those with mental or physical health difficulties, and refugees who may be new to the country.
Graham Wellfare, area ranger at the National Trust, who helped bring the scheme to Saddlescombe 10 years ago, said the project is at the heart of what the National Trust does - opening up access to the countryside and making everyone welcome.
Key to its success is breaking down barriers to the countryside. The course is low-cost, or free to those who can't afford it. (Funding received through a Higher Level Stewardship agreement helps the farm to host group visits.) Application forms are simple and activities appeal to all levels of ability.
A minibus service is put on from Brighton as most people who take part do not own a vehicle.
Undoubtably, the initiative has become part of the fabric of the place. So much so, that the Trust has set up its own volunteering group - Trust in Nature - especially for graduates of the Grow programme.
Graham said: "We realised that people developed a really strong bond with the farm during the eight weeks, and this was a way of offering people some continuation, in a safe and familiar space. And of course their contribution to looking after the estate is incredibly valuable."
Leaving a legacy
Roly too has felt the benefits. For him, it is an opportunity to share his knowledge of the countryside: "It is like when someone shows you around a museum and helps you understand what you're looking at - it makes the experience so much richer," he said.
"Part of our role as farmers is to help people understand the countryside and celebrate farming and nature. If people go away thinking 'that farmer loves what they do, they love their animals, they love nature' then that is a good thing."
It also gives the family a chance to slow down amid busy daily lives. Roly added: "We get as much out of it as the people on the programme. It has been hugely rewarding mentally for us."
For Jo and Graham, it is bumping into graduates of the course who, several years on, still credit Grow with changing their lives for the better.
The effect of the pandemic on the country's mental health is yet to be fully realised, but for some, the extended periods of isolation are likely to have had a profound effect. Arguably, the need for projects like Grow will have never been greater.
*Cite Adams, M. & Morgan, J. (2016) An evaluation of a nature-based intervention for people with experiences of psychological distress. Brighton: University of Brighton/Grow