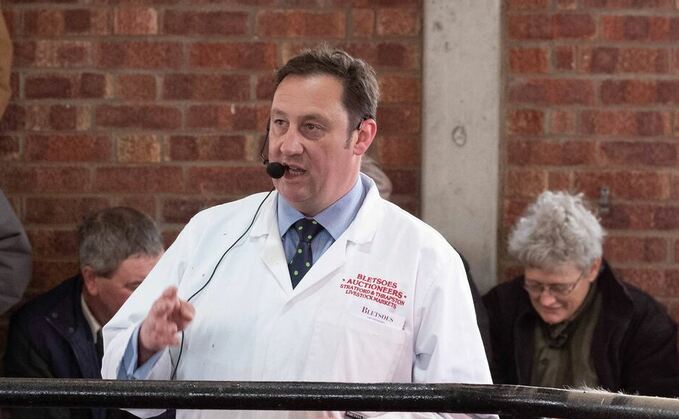 Alastair Brown on the roaring trade at marts.
Hopefully now we have seen the worst of the coronavirus pandemic, we can soon get back to some normality in the auction.

The auction rings have been sadly missed by many, as their weekly outing is often relief for many farming families, enabling them to meet with other local farmers and friends to chew the fat in what we call a rural hub or a meeting place for our local farming communities, and not just a place for buying and selling.

Over the past year we have seen vendors put their faith back into their local auctioneers, with strict drop and go instructions from Government to ensure we keep everyone safe. This has not always been something farmers have done in the past, but with an excellent trade and gentle instructions from the vendors to make as much as possible, all faith has been resumed.

A recent press release from the Livestock Auctioneers Association shows the importance of selling live, with hugely increased throughput figures and a massive turnover in 2020. As such, we still have a big role to play in the marketing of your products in an open and transparent way.

It has been excellent to see such buoyant prices for producers for all their hard work that goes into producing stock and produce for British and worldwide consumers.

At Thrapston, we have been achieving record prices in the commercial market, just like many other auctions around the country.

Our store cattle have been regularly achieving £1,200-£1,500 to a record top of £1,675 this year for the stronger types, and even the suckler-bred yearlings have been selling from £800-£1,000 and more.
Cattle have been forced on to the market early this year with a shortage of bedding and fodder. With this short supply, demand was at a premium and it rocketed in price, beating the previous year's high prices, with top prices of straw to an incredible £73 per bale this season.
Due to this shortage, we have been having increased stock numbers at Thrapston earlier than in previous years, which will make for an interesting spring when buyers look for cattle to turn straight out to grass.

Uplift

The finished cattle price is also extremely good, mainly due to more producers selling in the live ring, seeing fewer deductions and weight than the deadweight sector has been offering. This uplift has also been affected, with an increased demand from local butchers and farm shops improving their throughput, rather than shoppers buying from supermarkets.

As we all know, sheep have also seen an increase in price. From the doom and gloom pre-Brexit and the stories of Europe not wanting our products or high tariffs that could be charged, a lift in price is welcome. Not only has it created some cashflow for farmers who sold last year but it has left them more time to concentrate on this year's crop of lambs.

Easter is soon here this year and without the imports of New Zealand lamb, prices have been selling way past the £3/kg mark and some auctions have in fact been averaging that.

Even cull ewes have lifted this week by at least £20 per head to more than £100 on average. It looks as if prices could be up and down for the next few weeks with Easter and festivals approaching to dictate the prices.

With a window of better weather, farmers will be trying to get onto the land, which will probably cause them to leave hoggets in the field, causing a shortage in many markets.

My usual final words, market your stock to their best ability, ensure you contact your auctioneers for forecasts pre-sale, rather than sending your stock to market and hoping for the best. Stay safe, sell live and support your local markets.
Alastair Brown
Alastair Brown is a senior auctioneer at Bletsoes, Thrapston, Northamptonshire. Call 01832 736 753 or email [email protected]