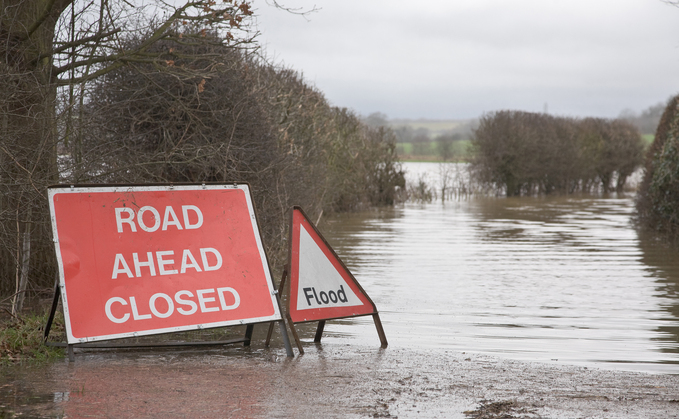 Farmers across Wales, the north west of England, Scotland and Northern Ireland have been hit by further gales and flooding after Storm Debi ripped through the UK on Monday.
A large clean-up operation is currently being carried out after winds of up to 95mph left rural communities without power and roads blocked by fallen trees.
Storm Debi is the third major weather event to hit UK farmers in as many weeks. According to rural insurer NFU Mutual, more than 1,800 businesses have submitted claims following storms Babet and Ciaran. The company revealed it was gearing up for more following Storm Debi.
A spokesperson for Defra said it was 'conscious' the impact Storm Babet has had on the farming community.
"Farmers are already eligible for support through the Flood Recovery Framework announced last week, including a grant of up to £2,500 as part of the Business Recovery Grant," the spokesperson said.
"Since 2015 we have also protected 580,000 acres of agricultural land along with thousands of businesses, communities and major infrastructure via our floods investment programmes."
In Malham, in the Yorkshire Dales, cows were forced to swim to safety after heavy rains hit the region.
Andrew Chalk, rural insurance specialist at NFU Mutual, said: "Rural communities, farms and dwellings are more at risk from extreme weather and hitting shortly after Storms Babet and Ciaran, we are urging people not to underestimate the potential for destruction during Storm Debi.
"We have received over 1,800 claims relating to storm damage in recent weeks, which goes to show just how widespread the impact of these storms can be."
The Government also said there were plans to introduce further Natural Flood Management measures under our ELM scheme next year to support flood mitigation and that risk management authorities will be working with farmers and landowners to help them adapt their businesses and practices to be resilient to flooding and coastal change.
See also: Farmers face further woes as Storm Ciaran gathers
Mr Chalk said while he realised farmers wanted to protect their business at all costs, he urged them not to underestimate the storms or to take any unnecessary risks.
"Safety for farmers, family members and workers should always be the number one priority and while fully understanding the pressures farmers and rural businesses are under, it is vital they avoid taking risks which could lead to injury or fatalities," he added.
The insurer has issued guidance on how farmers can best prepare for future bad weather:
NFU Mutual's storm resilience guide
Make sure all doors and windows can be securely closed.
Prepare for power cuts: Have torches and batteries to hand and make sure any generators are ready to use if required. If you are using candles, make sure you use them safely and extinguish when leaving the room, and make sure nothing hangs over the candles.
Inspect your property and make repairs to things like loose fence panels or gates.
Make sure gutters are not leaking and are clear of leaves and other debris.
Have a space to put loose outdoor furniture like garden chairs and trampolines. If you do not have an indoor space in which to put them, ensure you have a means of tying down or otherwise securing the furniture.
Safely check that tiles, slates and roofing sheets are in place, securing any that are not.
Inspect trees on your property, removing loose or overhanging branches which may cause damage to your or others' property in a storm.
Repair or unblock any faulty drains.
If you have a garage, clear a space for your vehicle in the event of a storm. If you do not have a garage, plan where you can park vehicle during a storm - this should be away from any walls, fences or branches which could fall and damage the vehicle.
Protect and lag water pipes in vulnerable areas and know where the water supply is so that you can turn it off in the event of burst pipes.
Stay alert for Met Office weather warnings in your area.
Have your insurer's emergency helpline number available.