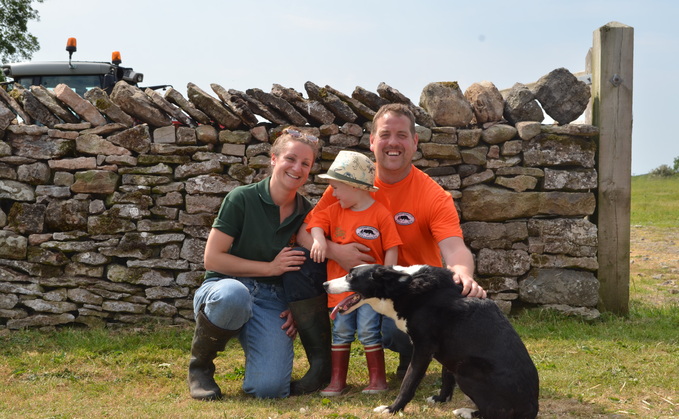 Farmers hosting Open Farm Sunday events welcomed over 170,000 members of the public onto their farm to showcase British farming.
Over 250 farms took part, including more than 50 hosting for the first time.
Matthew and Dani Blair at Thrimby Farms in Cumbria were one of those farms taking part for the first time in 2023.
The highlight of the day was tractor and trailer tours with people able to look around at the animals, both traditional and more modern sheep shearing demonstrations as well as competitions for both children and adults.
Open Farm Sunday
Companies including Morrisons and AHDB were also attending, as well as catering provided by another farm nearby, Lakeland Valley Catering. The environmental aspects were being showed by Eden Rivers Trust.
The couple, who appeared on BBC's This Farming Life said it had been an opportunity to get families out on farm and show them where their food comes from.
"It is headline news all the time about how terrible farming is. It is really nice to get people out and show what we do and how we work with all the different companies," Mr Blair said.
Ms Blair said they had had a much better response than expected and around 300 people had booked on to come down to the farm.
"I think most of the people coming are probably locals as well which has been surprising. We weren't aware that so many locals would want to come and look around," she said.
Mr Blair said they were always honest on social media about what they do, which the public respected.
Ms Blair urged other farmers to 'go for it' next year.
"You do not have to be a show farm," she said, adding they had tidied up but they were presenting the farm as it was to the public.
"The response has been really good.
"The more farms that open up and the more the general public see of how the food is produced, the better really."
We are always saying back British Farming. We want people to buy British produce. The best way to
Mr Blair said: "Our theory is that the consumers want honesty and transparency and I think the more farms that open the doors and show what really happens rather than what we read that happens, the better for the whole industry
"It is not a personal gain its for the whole industry."
He added the key thing he wanted people to understand was their care for the environment.
"To know we are doing what we can and what is available to us," he said.
"But also to understand for us to do that we need to run a profitable business."
Ms Blair added they were livestock people 'through and through' and wanted people to see the care they had for their animals' welfare.
One visitor, Daniel, a farm vet, travelled up to the farm from Garstang in Lancashire.
"It has been really informative," he said.
"There are loads of bits that even as a vet you do not understand the workings of the farm."
He added it had been a great experience for the children being able to get close to the animals and he had also been interested to hear more about the economic pressures on farmers as it was something which the general public did not hear much about.