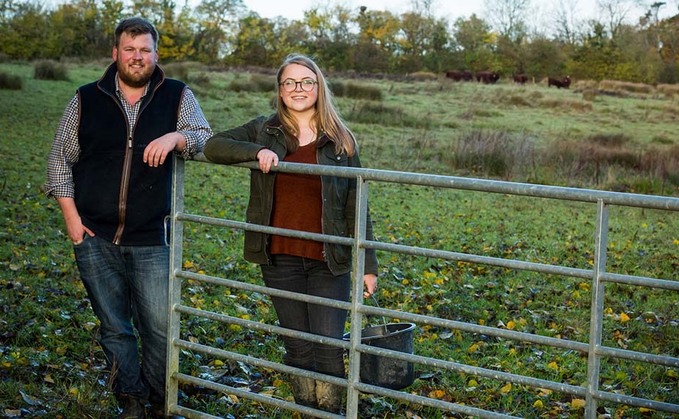 February fatigue is setting in and the novelty of our well-oiled winter routine has worn off - turnout cannot come fast enough.
Our feedstocks are tight and I think we will use every bale of silage and hay we have to carry us through until the fields are dry enough.
The good news is we are going to end up carrying some straw through to next year. We have agreed a muck-for-straw deal with the estate, which is a great excuse to buy a bale trailer to cart it all in.
We did our first pasture walk of the year and found our grazing block is averaging 2,100 dry matter (DM) per hectare, which is plenty for this time of year.
However, our silage ground is averaging 1,600DM/ha which is a bit lower than our target. You can really see the effect of what late sheep grazing does to your covers and it will be interesting to see how regrowth is affected this spring.

Calving is meant to be underway, but as of writing this article, there are no calves, nor has Isobel quite had our first child yet either.
Our yard is around 10 minutes from the house by car and this year we invested in a camera to watch over the herd, which means there are no more late night or early trips down to the barn.
It may have been one of our best investments this year and we've only opened the app on our phone to find the cows out twice so far. We'll take that as a win.

Earlier this month I was invited to talk with a group chaired by David Fursdon, chairman of Beeswax Dyson, and the subject was 'ways of promoting new entrants'. There are some great ideas out there.
While joint-ventures and contract farming may be favoured by landlords in the future, of particular interest is the Republic of Ireland model which gives income tax breaks to landlords who rent their farms on long-term tenancies.
We have found land is available but not on favourable terms, with short-term tenancies favoured by owners.
This makes it difficult to invest in infrastructure to make farming easier but also means it can be impossible to secure finance to even get started.
As we head into the biggest shake-up in agricultural policy for a generation, it's great to see there are many wise heads involved in the conversation.